Researchers at OJSC Intersoft Eurasia, a resident company at the Russian Innovation Center Skolkovo, have integrated a dosimeter-radiometer and a silicon detector into a single device to detect ionizing radiation. The sensor is fabricated using proven silicon technologies, so its manufacturing cost is relatively low.
The DoRaSi (dosimeter-radiometer on silicon) records ionizing radiation by transforming it to an electrical signal in the silicon wafer. Unlike the well-known Geiger-Muller meter ("Geiger counter") the DoRaSi sensor is able to register virtually any ionizing radiation - even alpha radiation, rather than just gamma and hard gamma rays.
The 0.05 cm3 device is as effective as a Geiger-Muller sensor that is 100 times larger, according to the researchers. They also report the device exhibits lower energy consumption: it draws nanoampere current at 100 volts compared to a Geiger-Muller sensor at 350 - 450 V.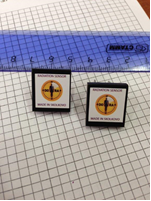 DoRaSi sensors are smaller in size and consume less power than the well-known Geiger-Muller meter ("Geiger counter").
The Skolkovo researchers believe demand for the DoRaSi silicon sensor will be for consumer applications as well as for monitoring radiation safety at nuclear power stations, in radiation medicine, and for transportation security inspections.
OJSC Intersoft Eurasia is the latest commercial entity to have come out of incubation at Skolkovo. OJSC Intersoft Eurasia acquired the intellectual property for Do-Ra devices from China in March 2014.
The Skolkovo Foundation is a non-profit organization whose mission is to accelerate the transformation of Russia from a resource-intensive to an innovation-based economy. The Foundation oversees the Skolkovo Innovation Center comprising 1,000 companies and startups, a Technopark, the Skolkovo Institute of Technology (Skoltech), a new graduate research University established in collaboration with the Massachusetts Institute of Technology, and Skolkovo City, located near Moscow.