Defense and communications chip supplier Microsemi Corp. says it is sampling its RTG4 family of radiation-tolerant FPGAs and that it's proposed $389 million acquisition of Vitesse Semiconductor has cleared an important regulatory hurdle.
These parts use flash non-volatile memory to implement the FPGA configuration rather than SRAM. Microsemi (Aliso Viejo, California) claims the result is "complete immunity to radiation-induced configuration upsets in the harshest radiation environments." The parts can sustain a total ionizing dose of more than 100-kilorads, says Microsemi.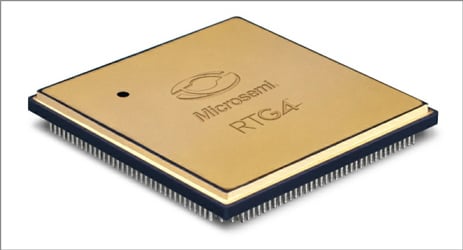 The RTG family offers up to 150,000 logic elements of logic capacity and up to 300MHz clock frequency (Source: Microsemi Corporation)The RTG family offers up to 150,000 logic elements of logic capacity and up to 300MHz clock frequency. Each logic element includes a four-input combinatorial look-up table and a flip-flop with built-in single event upset (SEU) and single-event transient (SET) mitigation.
The RTG FPGAs are designed to support rapid processing of datastreams and include up to 24 serial transceivers that can operate at up to 3.125-Gbits per second. There are also 462 SEU- and SET-protected multiply-accumulators and 5-Mbits of on-chip SEU-protected SRAM.
The rad-hard FPGAs are suitable for use in space payloads such as radar, imaging and spectrometry in civilian, scientific and commercial applications, says Microsemi. The implication is that these are not designed to more demanding military specifications.
Nonetheless such applications, in nuclear power control, high-altitude imaging and so on have in the past used radiation-hard ASICs with development programs that incur substantial cost. Moving to an FPGA can reduce the non-recurring engineering (NRE) bill and piece part cost while providing greater flexibility.
"We believe the high performance and rich feature set of the RTG4 FPGAs, together with our proprietary advanced processing algorithms, will make for a winning combination, creating great value for our space and missile customers," says David Strobel, CEO of Space Micro Inc. (San Diego, California), in a statement issued by Microsemi.
Engineering silicon, development software and RTG4 development kits are all available now, with flight units qualified to MIL-STD-833 Class B due to be available in early 2016.
Microsemi also announced the expiration of the waiting period for its proposed acquisition of Vitesse Semiconductor under the Hart-Scott-Rodino (HSR) Antitrust Improvements Act of 1976. The expiration of the HSR Act waiting period satisfies one of the conditions of the tender offer, says Microsemi.
Questions or comments on this story? Contact: peter.clarke@globalspec.com
Related links and articles:
IHS Semiconductor Value Chain Research
News articles: