Intel is shipping 64-bit mobile application processors—the company's Bay Trail Atom processor made on a 22-nm FinFET manufacturing process—giving Intel a technical lead in the mobile application processor market.
Bay Trail processors are present in tablet computers from Dell, Toshiba, Hewlett Packard, amongst others.
Leading mobile application processor vendor Qualcomm recently launched its 64-bit processor, the Snapdragon 410. This comes with integrated LTE/3G baseband, however. The 410 is aimed at smartphones and is not expected to sample until next year or to appear in equipment until the second half of 2014. Also, the ARM architecture Snapdragon 410 is manufactured using a 28-nm CMOS process by foundry Taiwan Semiconductor Manufacturing Co. Ltd.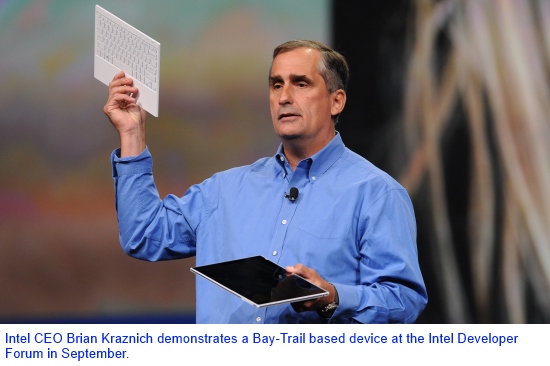 Apple has deployed its own 64-bit ARM-compatible processor, the dual-core A7, inside its own iPhone 5S but that is manufactured for Apple by Samsung on a 28-nm manufacturing process.
Intel's quad-core Bay Trail Atom trumps these two in terms of process technology and is referenced as being the engine in the Venue 8 and Venue 11 Pro tablet computers from Dell Inc. Dell credits the processor with running at 1.8-GHz or 2.4-GHz clock frequency and containing 2-Mbyte of cache memory.
A number of Bay Trail Atom SoCs with slight variations in specification—such as maximum clock frequency and memory interface—are expected to appear in the Asus T100, the Acer Iconia W4, the Toshiba Encore and HP Omni 10.
Related stories:
Surprise Uptick in PC Sales Projected in Q4