Digital power control startup Amantys Ltd. (Cambridge, England), flush with a newly appointed CEO Erwin Wolf and $5 million of additional funding, has announced the Power Insight Adapter, a box that can provide data monitoring and observability to an IGBT module-based power assembly.
Since Amantys was formed in 2010 by former ARM executives it has introduced a family of gate-driver ICs able to operate IGBT [insulated gate bipolar transistor] modules at voltages ranging from 1.2kV up to 4.5kV. These have now been augmented with the Power Insight Adapter, which supports the use of digital communications and control techniques to be added to high-voltage power switching.
Amantys's main gate-driver products are based on a load-balancing/feedback/feed forward algorithm developed by Patrick Palmer, the company's chief scientific officer. This together with the possibility of real-time control and trade-offs of performance against temperature and other parameters should allow for improved reliability and reduced cost of maintenance in high-powered systems such as wind turbine power conversion and traction systems for electrically powered railway locomotives.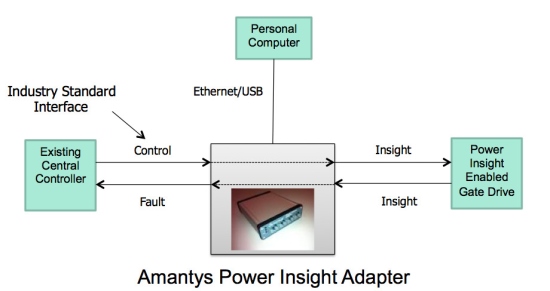 The adapter is designed for use during the development and commissioning of new systems, allowing engineers to observe and analyse critical parameters such as temperature and voltage and to use this information to improve overall switching performance. The adapter receives "insight" signals from the IGBT Gate Driver over the PWM isolation interface, allowing the host system to observe power switching performance in real-time and respond to changes in operation, environment, or to monitor faults that may occur.
"We offer a unique monitoring solution to drive IGBT Modules through Amantys Power Insight," said CEO Erwin Wolf. "By deploying the Amantys Power Insight Adapter, our customers are now able to upgrade their system rapidly to observe and tune system performance at each stage of development, as well as through equipment commissioning and into operation. Eventually they may integrate the core of the adapter into a host system, but this introduction gives the flexibility to start monitoring the system straightaway."
Amantys has formed deals with Fuji Electric, Hitachi and Dynex to develop compatible gate-drivers. In October, Amantys received $5 million from strategic investor Avago Technologies Inc., bringing the total the company has raised to $20 million.
Related links: