Texas Instruments Inc. this week launched a new library of reference designs intended to help designers choose and implement the company's analog embedded processor and connectivity ICs.
TI already offers a large portfolio of reference designs. The company's PowerLab reference design collection features more than 1,000 tested power management reference designs, and TI also offers precision analog reference designs under the brand new TI Precision Designs. The goal of the new library, TI Designs, is to provide reference designs in a standard format that engineers can utilize and become familiar with, according to Hagop Kozanian, vice president of worldwide analog marketing at TI.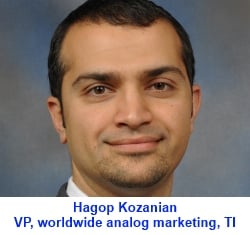 Each of the TI Designs reference designs includes test data, a schematic or block diagram, bill of materials (BOM) and design files that help explain the circuit's function and performance. Many also contain additional resources, including models, software, code examples, design guides and evaluation modules.
Kozanian said that while the number of resources provided with each TI Designs reference designs might vary, each will meet a minimum threshold in terms of amount and quality of content in order to part of the library.
"We are not going to compromise our minimum threshold," Kozanian said.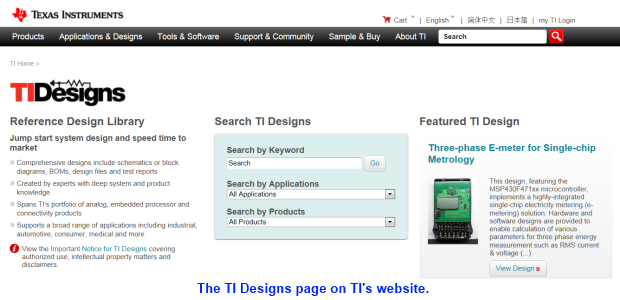 TI is making 150 TI Designs available immediately through the company's website. Many more are currently under development, Kozanian said. He added that TI could have chosen to rush the creation of more reference designs to be part of the library at launch, but that the company did not want to compromise the quality of the material.
"We have so much more in our coffers that we have to offer," "We don't want to be overzealous and just go spit a bunch of them out there."
According to Kozanian, reference designs are becoming more important to designers as designs get more complex and time to market pressure increases. But, he added, designers rarely make use of an entire reference design as provided but rather use it as a starting point and an inspiration for their own designs.
"Engineers use them as a credible source of information and modify them to do their own thing and create their own flavors," Kozanian.
Related links: