Globalfoundries Inc. (Milpitas, Calif.) is preparing to make ICs for Apple at is Fab 8 complex in up-state New York, according to an Albany Times Union report, which referenced an unnamed source.
Samsung, which currently fabs application processors for Apple at a fab in Austin, Texas, is providing engineers to help bring up production at Globalfoundries' Fab 8, the report said.
Manufacturing process technologies at Samsung and Globalfoundries are similar, as both are members of the Common Platform Alliance with IBM. This should make transfer of the design easier.
It remains unclear when manufacturing will begin in New York or whether it will completely replace production in Texas or simply serve as a second source. Nor is it clear whether Globalfoundries will be supplying Apple directly or operating as a subcontractor to Samsung.
In August 2011 Globalfoundries announced the synchronization with Samsung Foundry of 28-nm high-k metal-gate manufacturing for mobile applications. This meant that each company had two fabs that could make the same circuits in the same way. Globalfoundries' Fab 1 in Dresden and Fab 8 in Malta, N.Y., and Samsung's S1 fab in Giheung, Korea and S2 in Austin.
The report quoted a Globalfoundries spokesperson declining to comment.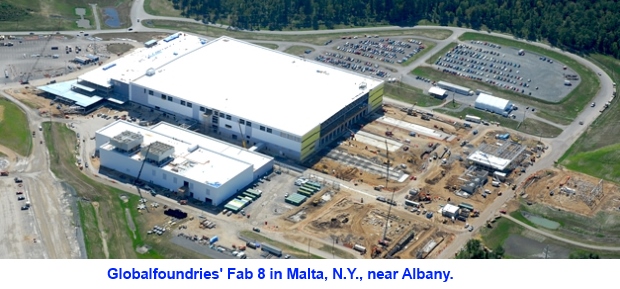 Taiwan Semiconductor Manufacturing Co. Ltd. has been tipped as a likely recipient of chip manufacturing contracts as Apple sought to broaden its supply chain and reduce dependence on Samsung, a company with which it compete at the system level.
However, TSMC is reported to have decided against setting down a leading-edge manufacturing plant in the U.S. Meanwhile, Globalfoundries is expected to eventually announce plans for another U.S. wafer fab—Fab 8.2—adjacent to the current fab and the technology development center that is under construction there.
Fab 8.2 is expected to cost roughly $15 billion and will include a 575,000 square-foot cleanroom.
Related links and articles: