After a glance at the revenue of the top electronic manufacturing services (EMS) companies over the last few years, it's tempting to sum up the status of the industry in one sentence: There's Hon Hai Precision Industry Co. Ltd., and then there's everybody else.
A decade ago, several EMS companies were in contention for the top spot: Flextronics ($13.8 billion), Solectron ($11.1 billion) and Sanmina-SCI ($10.8 billion). Few were paying attention to Taiwan-based Hon Hai, also known as Foxconn, although even then it was expanding rapidly from its base as a connector maker.
Everyone's paying attention now. Hon Hai's deal in 2007 to become Apple's main manufacturing partner for the iPhone added fuel to its fire. Hon Hai's revenue hit $117 billion in 2012, and analysts estimate that the Apple business makes up anywhere from 35 to 50 percent of it. (Analysts have to do a lot of estimating when it comes to Hon Hai because the company is so secretive.)
That dwarfs its nearest competitors. Flextronics had $23.5 billion in sales for its fiscal year 2013, which ended March 31. Jabil Circuit had $17.1 billion for fiscal year 2012 (Jabil's fiscal 2013 results are due Sept. 25).
"Everyone else has really backed away from the sweet spot of Hon Hai's business," the high-volume consumer electronics products, says Robert Freid, president and principle consultant at Contract Manufacturing Consultants Inc., an advisory firm that helps OEMs with outsourcing.

No one can match Hon Hai's distinct advantages in economies of scale and backward integration. Indeed, Hon Hai was founded by Terry Gou as a connector manufacturer back in 1974, and it still makes much of its own material and components, including plastic mechanical parts and printed circuit boards. Nearly 40 years later, the company employs more than 1 million people in its Chinese facilities alone. It has factories around the world. And Gou remains its chairman and CEO.
That doesn't mean there is no business left for the other EMS players, however. It's just a different kind of business. Flextronics and Jabil Circuit have carved out different business models, generally focusing on lower volume, higher mix products and value-added services rather than the massive volumes of consumer devices that Hon Hai has cornered. (We'll profile these two companies in subsequent articles.)
Victimized by its own success
Ironically, its astronomical success has boxed Hon Hai into a corner. The company's growth, which had been in the double digits for years, has slowed to the single digits. Earlier this year, the company posted its biggest revenue decline in at least 13 years.
It was nice riding Apple's coattails as sales of iPhones and iPads soared, but that growth is waning. And sales of other major customers, particularly those in the PC industry (including Hewlett-Packard and Dell) and game consoles (Sony) are weakening as well. Profit margins, always slim, are shrinking because Hon Hai's forward-pricing model isn't working anymore.
Under that model, the company consistently underbid competitors, then squeezed out costs and raised efficiencies through its massive economies of scale. "They knew that if they could get the volume, then they could get the costs down, so they always offered a better price in order to get the volume," says Alberto Moel, senior analyst at Bernstein Research. But the company has reached its limit on cost reduction in components and materials. "Although they were still offering lower pricing, all they were doing was eating into their own margins," Moel says.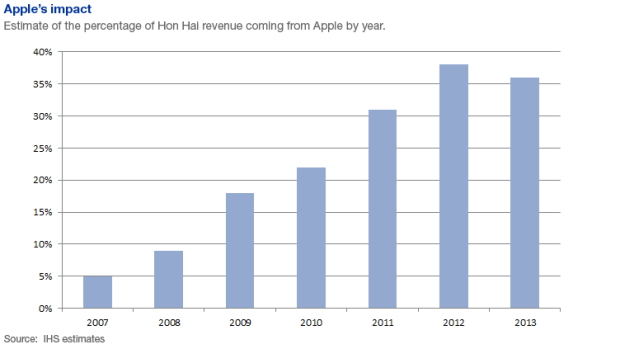 So now Hon Hai is desperately looking for ways to diversify its customer base and move into higher growth businesses. But the size of Apple's business puts it in a Catch 22 situation, says Thomas J. Dinges, senior principal analyst, Electronics & Media, at IHS. Dinges estimates that Apple is closer to 35 percent of Hon Hai's revenue, but even the lower estimate equates to almost $41 billion in revenue.
"How can you diversify away from that?" Dinges asks. The company would have to find another chunk of business worth tens of billions of dollars, or be able to find a product or business that quickly grows to something akin to that. "You can't just take the equivalent of $40+ billion in revenue and say, 'we don't want to grow that at all.' You have to make and ship what the customer wants."
At the same time, it's no secret that Apple wants to diversify its manufacturing base. It started using Pegatron, for example, to build a small number of iPhones in 2011 and increased it business with iPad Minis in 2012. But the sheer volume of Apple's business limits its choices because no other EMS company has enough capacity, says Dinges.
"Flextronics and Jabil—they have zero interest in assembling iPhones and iPads—because there's not enough margin in it for them," he says. But they couldn't do it even if they wanted to. Even contender Pegatron doesn't have the capacity to make the huge volumes that Apple requires.
"With nearly one million employees in Mainland China, Hon Hai has a workforce that is five times the workforce of Pegatron," Moel wrote in a recent Bernstein Research report. "We estimate that for Pegatron to be able to take an additional 10 percent of Apple's 2012 iPhone and iPad assembly from Hon Hai, it would have to increase its labor force by 30 percent."
In search of new business
Meanwhile, Hon Hai seems to be leaving no stone unturned in its search for new businesses. The scattershot approach may produce some new revenue, says Dinges, but it's not likely to make much difference in the near future. "Maybe they get to $300 million [from a new] business. That's awesome for [some companies]. That's a rounding error for Hon Hai," he notes.
Here are some of the new ventures Hon Hai is trying:
Retail TV and other consumer products: In June, Hon Hai started selling large-screen LCD TVs through 7-Eleven convenience stores in Taiwan. Recent news reports say it may sell mobile phones and tablets there as well. This is in addition to a separate retail effort in which Hon Hai opened 300 of its own retail stores, under the brand Wanma Benteng (10,000 Running Horses), to sell electronics, according to Bernstein Research. Bernstein also notes that through various partnerships Hon Hai has opened 40 to 50 stores under the Cybermart brand and four under the MediaMarkt brand.
Wireless telecommunications: Through Ambit Microsystems, its communications and network equipment division, Hon Hai applied to Taiwan's National Communications Commission for a 4G license in July. The license will likely cost hundreds of millions of dollars, not to mention the huge capital expenses required to build out a network. All-in-all, an expensive and dangerous proposition, thinks Bernstein's Moel, and one that probably won't amount to much revenue. "Are they going to grow their revenues by buying a telecom license and building a network? Very unlikely," he says.
Internet services: As of May, Hon Hai had bought 28 percent of the Taiwan Intelligent Fiber Optic Network Consortium (Taifo), a project to build a fiber-based Internet service for Taipei City government and citizens.
Cloud computing: The company is building a cloud computing research and development center in south Taiwan, according to Taiwanese IT news outlet Digitimes. The facility, scheduled to be completed by the end of 2013, will support the development of services, software, applications and technology related to the Internet of Things, Digitimes reported in August.
The China Post reported that Hon Hai plans to hire up to 3,000 software engineers to develop "high-volume data processing and computing, front and backend HTML5 platforms, mobile applications, and the fledgling Firefox operating system."
Firefox products: In June, Hon Hai said it would build devices and applications based on Mozilla's Firefox operating system. Devices reportedly include smartphones, tablets, TVs, electronic whiteboards and outdoor displays. Dinges interprets this move as a defensive one. Hon Hai is already the largest supplier of iOS devices, is becoming a large supplier of Android devices, and wants to cover its bases in case Firefox takes off, he says.
Imaging and display technology: In December 2012 Hon Hai invested $200 million in Woodman Labs Inc., a closely held Silicon Valley firm that makes GoPro rugged waterproof cameras used by surfers, skiers and skydivers, The deal gives Hon Hai access to image-capture technology and an 8-percent stake in a fast-growing digital imaging brand. In March, reports surfaced that Google had signed up Hon Hai to manufacture its digital eyeglasses—Google Glass—at its Foxconn factory in California. And last year, Gou agreed to personally acquire a 50-percent stake in an advanced panel-making plant of the struggling Sharp Corp.
Hon Hai spin-offs?
The latest twist by Hon Hai is a plan to spin off parts of the company, announced at its annual general meeting in June. Among the businesses under consideration is the division that started it all: its cable and connector business. Bernstein Research estimates that the division's revenues are between $2.7 billion and $3 billion, comparable to other major global connector makers. Other spin-off candidates include a business unit that makes carbon nanotube and the company's adhesive glue business, according to Bernstein Research.
If there's a strategy that ties all these pieces together, analysts are having a hard time figuring it out. And what little Gou says usually serves to further confuse rather than to clarify. "Terry Gou's whole mantra now is that they want to turn into a core technology and services company," says Dinges.
That's a vague statement that could cover a lot of technology and a lot of different types of services, according to Dinges. If Gou means after-market services, including warrantee and repair, Hon Hai will encounter challenges. "That's a very fragmented industry, and it's one where their competitors have already made a lot of inroads," says Dinges.
One option might be to acquire or buy a majority stake in an EMS company that is already in that businesses, says Dinges. He thinks the big U.S. competitors Flextronics and Jabil are less likely to be targets than some of the smaller, second-tier players. But even if Hon Hai buys a company, could it run such a business? The lower volume, high mix EMS model requires dozens of smaller, diversified manufacturing facilities around the world—a very different model and one that requires different management skills. "Hon Hai's core value has always been that they are very good at high-volume manufacturing in Asia," says Dinges.
Only time will tell whether the company can be successful enough in another business to make a difference in the big picture. "Hon Hai doesn't just need an opportunity to take a customer from zero to a few billion dollars in sales," says Dinges. "They need one that will amount to tens of billions of dollars."