This Electronics360 Teardown video interview with Andrew Rassweiler, senior director of Cost Benchmarking Services, IHS Electronics & Media, provides an overview of smart meter teardowns, a product category that IHS has been reviewing for a number of years. Rassweiler covers design, cost, manufacturing and other considerations that OEMs and their utility customers must to take into account during the product development process.
What follows below is an IHS summary teardown report produced in April of one smart meter: the ENERLUX M Single-Phase Electronic Electricity Meter manufactured by AEM, headquartered in Timisoara, Romania. AEM's Enerlux meters are intended for both residential and commercial building.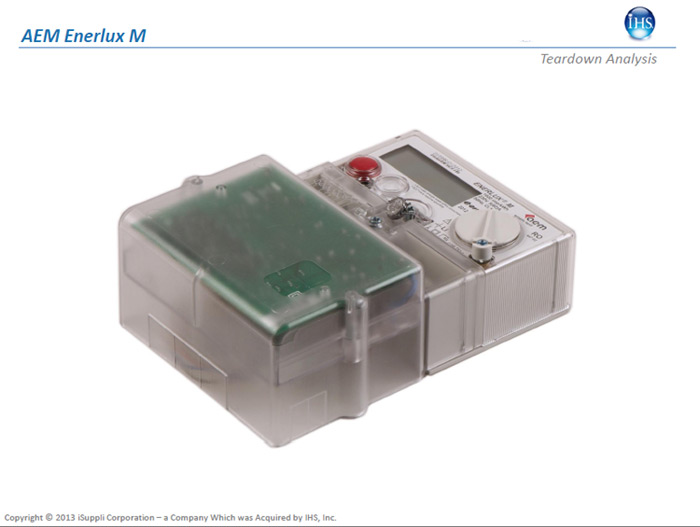 Additional product images can be found at the end of this article.
Production Volume Estimations
For the purposes of this teardown analysis, IHS assumed an Annual Production Volume of 1,500,000 units and a Product Lifetime Volume of 5 years.
Teardown volume and production assumptions are primarily used for the cost analysis in terms of amortized non-recurring engineering (NRE) and tooling costs, especially for custom components specific to the model being analyzed (mechanical components especially). Unless assumed volumes are different by an order of magnitude, minor changes in volume (say 1 million vs. 2) rarely have a large net effect on the final analysis.
Main Cost Drivers
The top 10 components listed below account for 61% of the smart meter's total bill of materials (BOM).
Display Module - 3.0' Diagonal, Monochrome LCD, 12 7-Segment Numeric Display & Graphic Symbols Display- (Qty: 1)
Texas Instruments MSP430F437IPZ MCU - Mixed Signal, 16-Bit RISC, 8MHz, 32KB+256B Flash Memory, 1KB RAM, 8-Ch x 12-Bit ADC- (Qty: 1)
Texas Instruments MSP430F149IPM MCU - Mixed Signal, 16-Bit RISC, 8MHz, 60KB+256B Flash Memory, 2KB RAM, 8-Ch x 12-Bit ADC- (Qty: 1)
TE Connectivity RT114730 Relay - SPDT, 1 Form C (CO), 12A/250VAC- (Qty: 1)
Terminal - Stamped / Formed Electro-Galvanized Steel, Plated, w/ Integral Screw- (Qty: 8)
Enclosure, Main, Rear Top - Injection Molded Polycarbonate, Glass Filled, w/ 2 Pressed-In Threaded Brass Inserts- (Qty: 1)
2-Layer - FR4, Lead Free- (Qty: 1)
Guang Dong Ellington Electronics - (Qty: 1)
Wire Harness - 4 Discrete Insulated Wires, w/ 1 Stamped Copper Bus Bar, 1 5W Current Sense Resistor, 1 Integral Ferrite Bead, 2 Ground Lugs, and Heat Shrink- (Qty: 1)
Analog Devices ADE7753ARSZ Multifunction Metering IC - Single-Phase, w/ di/dt Sensor Interface- (Qty: 1)
Not Included in Analysis
The total materials and manufacturing costs reported in this analysis reflect only the direct materials cost from component vendors and assorted EMS providers) and manufacturing with basic test. Not included in this analysis are costs above and beyond the material manufacture of the core device itself – cost of intellectual property, royalties and licensing fees (those not already included into the per component price), software, software loading and test, shipping, logistics marketing and other channel costs including not only EMS provider and the OEM's margin, but that of other resellers. Our cost analysis is meant to focus on those costs incurred in the manufacture of the core device and exceptionally in some circumstances the packaging and literature as well.
We do provide an Excel tab 'Overall Costs' where a user can enter their known (or estimated) pre- and post-production costs to build a per-unit cost reflective of theirs actual expenditures.
Manufacturing Notes
In the electronics manufacturing space, very few companies build their own hardware anymore. Even very notable companies like Apple, design their own hardware, but most designs are then outsourced to EMS (electronic manufacturing services) providers - such as Foxconn/Hon Hai, and many others including regional players e. All of these EMS providers operate in basically the same way and typically help manage the purchasing of smaller, common components such as resistors and capacitors. Many EMS providers will leave the negotiation of key components such as integrated circuits and modules to the OEM that designs the product, though this can depend on the OEM's desires and capabilities. Our analyses always assume the EMS provider's involvement, though our standard deliverables do not typically estimate the additional margin that an EMS provider would tack on to their cost. It is possible, using the 'Overall Cost Assumptions' tab in this analysis to account for many of these costs that go beyond the normal scope of teardown analysis.
Country of Origin
For the purposes of this analysis, we are assuming the following country of origin for each level of assembly, based on a combination of 'Made In' markings, and/or assumptions based on our knowledge of such equipment.
Display PCB - Romania
Main PCB - Romania
Other - Enclosures / Final Assembly - Romania
Country of origin assumptions relate directly to the associated cost of manufacturing, where calculated by IHS. In the case of finished sub-assemblies, which varies from product to product, we do not calculate internal manufacturing costs, but rather assess the market price of the finished product in which case country of origin assumptions may or may not have a direct effect on pricing.
Labor rates are applied directly only for hand-inserted components and systems in our bill of materials. Variations in labor rates do not have a direct effect on our modeled calculations of placement costs for automated SMD assembly lines. The placement cost of auto-inserted components such as SMT components are calculated by an IHS algorithm, which allocates a cost per component based on the size and pin count of the device. This calculation is affected by country or region of origin as well.
Design Complexity
Component counts by assembly and the number of assemblies are indicators of design complexity and efficiency.
Component Quantity: 112 - Main PCB
Component Quantity: 106 - Display PCB
Component Quantity: 47 - Other - Enclosures / Final Assembly