The commercial sector of the global solar energy storage business is expected to become the largest market for photovoltaic (PV) storage systems in 2017, as rising energy prices and the growing need for backup power supplies force companies to turn to PV solutions to reduce energy costs.
Global installations of PV storage systems for commercial use are set to rise to 2.3 gigawatts (GW) in 2017, up from 3.2 megawatts in 2012, according to a new IHS report entitled "The Role of Energy Storage in the PV Industry." This is expected to increase the commercial segment's share of PV installations to 40 percent in 2017, up from 5 percent in 2012, surpassing the residential and utility-scale segments.
"Utilities increasingly are imposing both peak demand charges and time-of-use fees on their commercial customers," said Abigail Ward, PV analyst at IHS. "These costs can be minimized by using a PV energy storage solution."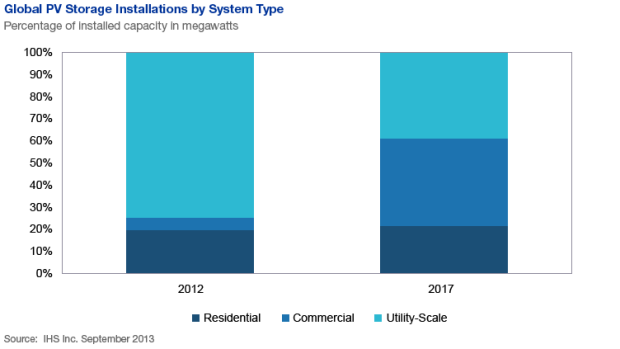 The main reason a commercial enterprise installs an energy storage solution is the desire to intelligently manage the use of PV energy to reduce electricity cost, according to IHS. An energy storage solution can be used to shift PV energy from when it is generated for on-site use during periods when these charges apply. It can also provide back-up power in regions where there are weak and unreliable grids.
In North America, the commercial market is becoming increasingly concerned about energy rates and grid reliability. Consequently, North America is expected to lead the world in commercial PV storage, accounting for more than 40 percent of installations in 2017.
Storage in these applications will also be encouraged by the California Self-Generation Incentive Program (SGIP), which provides a financial subsidy against the upfront cost of an advanced energy storage system. Installations likewise will be boosted by California Energy Storage Bill AB 2514, which includes targets for investor-owned utilities to procure by 2020 a given amount of energy storage in its electricity network.
Another lucrative region for commercial PV energy storage is Japan, where electrical blackouts are common following the Fukushima nuclear disaster, as well as Germany.