The Microsoft Surface Pro (9SR-00001) Tablet from Microsoft - its first sally into the tablet space - represents a concerted move as a devices and services provider. From a hardware perspective Microsoft has succeeded with its Surface, offering an impressive tablet that is more profitable, on a percentage basis, than even the lucrative iPad based on current retail pricing. Overall in terms of its size, feature set and pricing threshold, the Surface RT is clearly designed to compete with the full-sized iPad from Apple Inc.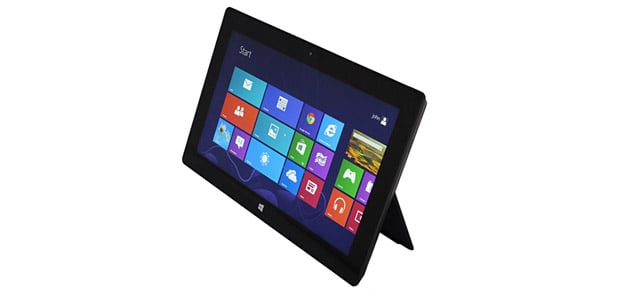 The Microsoft Surface Pro features a hybrid touch solution (with WACOM digitizer & stylus) and an Intel Core i5-3317U, Dual Core, 2.6GHz CPU.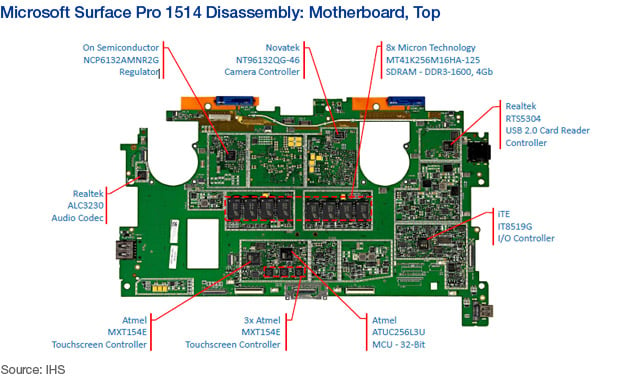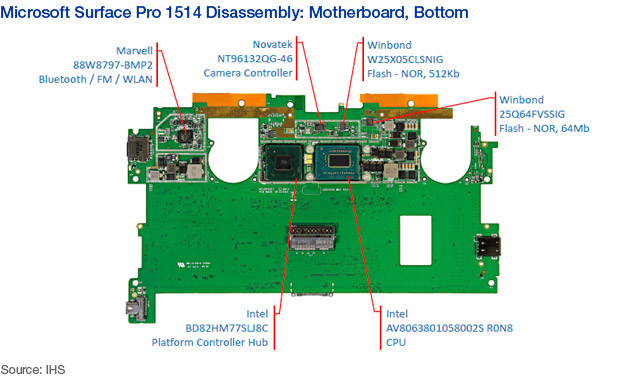 There are 64GB and 128GB versions available currently, with the 64GB version leaving less than 50% available for users.
The Intel CPU, even with a hefty assumed discount, costs 4 to 5 times that of the ARM Core Processor. With this, the Surface Pro has an approximate $180 USD higher BOM cost than the Surface RT (ARM core version). The Surface RT 64GB (128GB not available for RT) retails for $599 USD, at $899 - $999 USD the Surface Pro has a 'comparable' difference of $300 USD in the retail pricing .
Cost Notes
Top Cost Drivers below: % of Total BOM 82%
Main Cost Drivers Below:
Samsung Display - LTL106HL01-001 - Display Module - 10.6' Diagonal, 16.7M Color TFT, 1920x1080 (16:9) WUXGA, 247mm X 148mm Viewable Area, PLS Mode- (Qty: 1)
Intel - AV8063801058002S R0N8 - CPU - Intel Core i5-3317U, Dual Core, 2.6GHz, 3MB L3 Cache, Integrated Graphics 4000- (Qty: 1)
Lite-On Corp - LMT-19nmBGA-64G - SSD - Mini PCIe - 64GB mSATA 6Gb/s- (Qty: 1)
Touchscreen Assembly / Display Window - 10.6', Capacitive, Painted, Printed, w/ Integral Flex PCB- (Qty: 1)
Micron Technology - MT41K256M16HA-125 - SDRAM - DDR3-1600, 4Gb, 800MHz, 1.35V- (Qty: 8)
LG Chem - Battery Pack - Li-Ion, 2-Cell, 7.4V, 5676mAh, w/ Power Management Circuit- (Qty: 1)
Intel - BD82HM77SLJ8C - Platform Controller Hub - HM77 Express Chipset, 4.1W- (Qty: 1)
UniMicron Technology - 10-Layer - FR4, Lead-Free- (Qty: 1)
Enclosure, Main, Bottom - Die-Cast Magnesium Alloy, Painted, Printed, w/ 26 Pressed-In Metal Standoffs- (Qty: 1)
Dongguan Hipro Electronics - 1536 - AC Adapter - Dual Output, 12V/3.6A, 5V/1A, w/ 5ft Cord & Plastic Sleeve- (Qty: 1)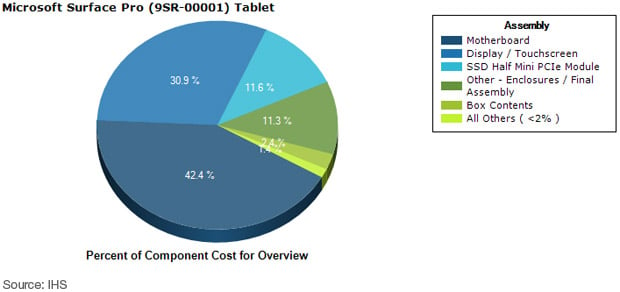 Target Market

Mass Market / Enterprise

Even though this product should appeal broadly to a certain segment of consumers - given the price tag and feature set - it seems more designed to win over enterprises that need 'full PC' functionality - but want the portability of the tablet. For many consumers - a tablet at half the retail price of the Pro may make more sense as a media consumption device.

Released

February 2013

Initial release date in US and Canada.

Pricing and Availability

$899 - $999 USD 64 GB / 128GB Versions

The Surface RT 64GB (128GB not available for RT) retails for $599. There is a 'comparable' difference of $300 USD in the retail pricing.

International*

*Initially rolled out in the US and UK, the Surface is available from Microsoft in several other countries in Western Europe - but does not appear to be worldwide as of July 2013.

Volume Estimations

1,250,000 Annual Production Volume
1 Product Lifetime (Years)
For the purposes of this teardown analysis, we have assumed an Annual Production Volume of 1250000 units and a Product Lifetime Volume of 1 year(s).

Teardown volume and production assumptions are primarily used for our cost analysis in terms of amortized NRE and tooling costs, especially for custom components specific to the model being analyzed (mechanical components especially). Unless assumed volumes are different by an order of magnitude, minor changes in volume (say 1 million vs. 2) rarely have a large net effect on our final analysis because of this.

Not Included in Analysis

The total materials and manufacturing costs reported in this analysis reflect ONLY the direct materials cost (from component vendors and assorted EMS providers), AND manufacturing with basic test. Not included in this analysis are costs above and beyond the material manufacture of the core device itself – cost of intellectual property, royalties and licensing fees (those not already included into the per component price), software, software loading and test, shipping, logistics marketing and other channel costs including not only EMS provider and the OEM's margin, but that of other resellers. Our cost analysis is meant to focus on those costs incurred in the manufacture of the core device and exceptionally in some circumstances the packaging and literature as well.

We do provide an Excel tab 'Overall Costs' where a user can enter their known pre and post production costs to build a per unit cost reflective of theirs actual expenditures.

Country of Origin

For the purposes of this analysis, we are assuming the following country(ies) of origin for each level of assembly, based on a combination of 'Made In' markings, and/or assumptions based on our knowledge of such equipment.

Box Contents - China
Camera Assembly - China
Display / Touchscreen - China
Misc PCB Assemblies - China
Motherboard - China
Other - Enclosures / Final Assembly - China
SSD Half Mini PCIe Module - China

Country of origin assumptions relate directly to the associated cost of manufacturing, where calculated by iSuppli. In the cases of 'finished' sub-assemblies (such as TBD), we do not calculate internal manufacturing costs, but rather assess the market price of the finished product in which case country of origin assumptions may or may not have a direct effect on pricing.

Labor rates are applied directly only to hand inserted components and systems in our bill of materials, and although regional assumptions do, these new rates do not have a direct effect on our modeled calculations of placement costs for automated SMD assembly lines. "Auto" inserted components (such as SMT components) placement costs are calculated by an iSuppli algorithm which allocates a cost per component based on the size and pincount of the device. This calculation is affected by country or region of origin as well.

Design Complexity

Component counts by assembly and the number of assembly are indicators of design complexity and efficiency.

Component Qty: 2010 - Motherboard
Component Qty: 3 - Display / Touchscreen
Component Qty: 1 - SSD Half Mini PCIe Module
Component Qty: 186 - Other - Enclosures / Final Assembly
Component Qty: 10 - Box Contents
Component Qty: 2 - Camera Assembly
Component Qty: 9 - Misc PCB Assemblies
Component Qty: 2221 - Grand Total
At 2218 total components (of which 2010 are on the motherboard) the Surface Pro has greater complexity and component counts vis a vis other tablets, especially the Microsoft Surface RT that had a total of 1376 components and a motherboard with only 1001 components on it.