As OEMs become leaner and outsource more of their production, they and their contract manufacturers are expanding the use of distributor-provided services as a way to reduce the total cost of acquisition, get products to market more quickly, guarantee continuity of supply and reduce overall risk in the electronics supply chain.
Distributors view these "value-added" services as a way to forge closer relationships with existing customers and garner more business and revenue while also attracting new customers. For many distributors, value-added services are a growing revenue stream and often result in distributors selling more parts to customers, which is their bread-and-butter business to begin with.
"At the end of the day, we don't manufacture anything," said Tom Vanderheyden, vice president of sales for the Americas at Fort Worth, Texas-based TTI. "We provide services. We are in the obstacle-removing business."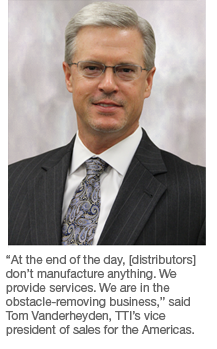 A recent survey report by Electronics360 of customers, suppliers and distributors confirmed the increased interest in removing obstacles. Indeed, the survey revealed that both demand for and supply of value-added services are on the rise. As shown below, a healthy percentage of the customers surveyed currently utilize distributor services. The survey found that they expect to increase the use of many of these services in the coming years.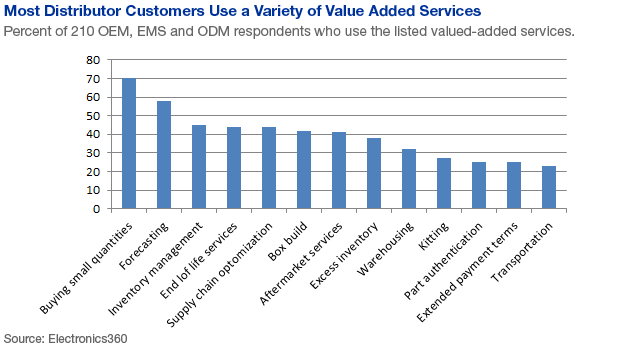 In response to this expected increase in demand, distributors during the next five years indicated that they planned to expand these services and derive an increasing portion of their total revenue from value-added services. This year, for instance, 28 percent of distributor revenue will be derived from value-added services, with that percentage rising to 41 percent by 2018, according to the survey.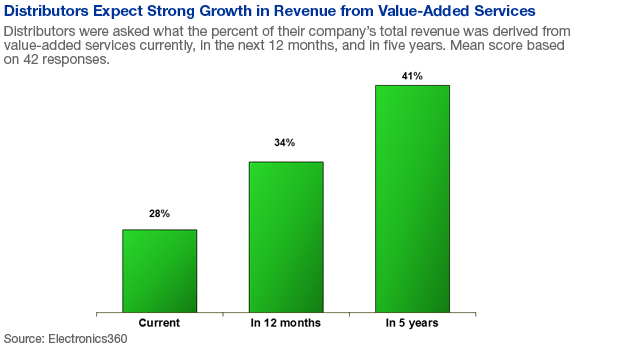 The survey found that customers — which included original equipment manufacturers (OEMs), electronics manufacturing services providers (EMS) and original design manufacturers (ODMs)—are willing to pay for some of the services. Transportation, box build, warehousing, kitting and aftermarket provisions are some of the services that customers are most willing to pay for, according to Electronics360. However, buyers were less willing to pay for services such as inventory buybacks and authentication of parts.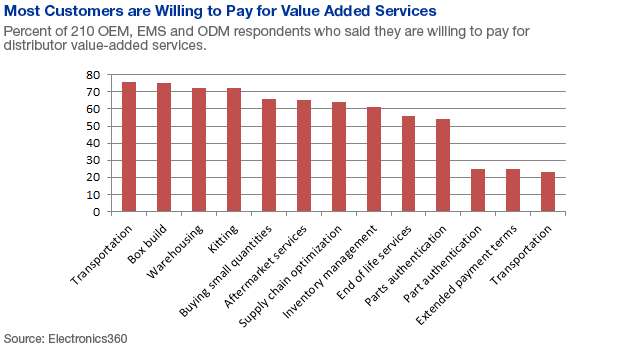 There were also differences in how customers said they would be willing to pay. In some cases, they preferred to pay higher prices for parts if the distributor bundled in valued-added services. In other cases customers said they'd prefer to pay separately for the service.
Sometimes a distributor would be willing to provide a service, such as IC programming, to an OEM or EMS provider even if the customer did not buy parts from the distributor.
As a result of the growing need for supply chain services, distributors — especially large global distributors — offer cradle-to-grave services such as design, inventory management, forecasting and aftermarket, including product repair and refurbishment, product resale, asset disposition and product recycling.
In some cases, distributors offer consulting services. For instance, passives specialist TTI has supply chain managers who advise customers on issues like materials flow, inventory levels and lot sizing.
Distributors also say that demand is rising for some traditional value-added services such as IC programming and kitting, while demand is stable for other services like taping reeling, cable and harness assembly, connector assembly, parts labeling and others.
It's not uncommon for customers, especially EMS providers, to use multiple value-added and supply chain management services.
"Supplier-management inventory programs, programming, kitting, lead forming aftermarket and repairs are the services that distributors provide for us," said Riccardo Castaldo, vice president of supply chain and interim chief procurement officer at Celestica, based in Toronto. "We look to them for these higher value services. They are very useful to our high-mix, low-volume business," he said.
While the services are provided to OEM and EMS customers, suppliers say they appreciate such services as well.
"AVX is not building for inventory. We are building for orders," said Gordon Hoey, global marketing manager for component manufacturer AVX headquartered Fountain Inn, S.C. "We rely on distributors to service our customers with logistics and inventory buffering programs," he said.
Hoey said supply chain services are "absolutely necessary for our customer base and it would not be possible for AVX to offer them on the scale that distributors are able to do."
Some large distributors, such as Arrow and Avnet, have taken value-added services to a higher level, providing box build and other value-added services. The companies will assemble servers for the likes of IBM and HP.
Getting in on the design
Distributors say they are providing services to customers as early as the concept stage of new product development when OEMs turn to distributors for design help.
Many electronics companies have cut back on internal design resources, but "they still have a need to have the number of new design starts remain high so they look for design assistance from distribution," said Lindsley Ruth, executive vice president at Future Electronics, based in Montreal.
In addition, OEMs are under "greater pressure to get their products to market faster than they had to in the past," Ruth said. He added that distributors are involved "in the conceptual phase and system-level design" of new products.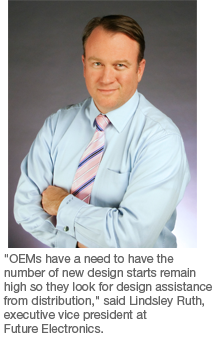 Many distributors help OEMs design new systems and subsystems. They can help OEM customers develop, specify or design such devices as field-programmable gate arrays (FPGAs) or application-specific integrated circuits (ASICs) using cores for third-party intellectual property (IP).
Some provide software and hardware consulting for system integration.
"We invest a lot of time in training our engineers to make sure they are knowledgeable in the technologies of our suppliers and component manufacturers so that they can offer the best technological solution," said Ruth.
While design services are useful to OEMs, suppliers like them as well because they help create more demand for their components.
"The lifeblood of our business is new product design, and the distributors have these extensive forces of field application engineers that are valuable to us," said Dave Valletta, executive vice president for worldwide sales at Vishay Intertechnology, headquartered in Malvern, Pa.
While many distributors help customers design products, they also help them manage inventory once a product goes into production.
Distributors say demand is growing for inventory management programs such as bonded and consigned inventory, in-plant stores and auto replenishment, as more OEMs and EMS providers move toward lean manufacturing to reduce total cost and improve profitability.
The advantage for OEMs and EMS providers is that distributors hold the inventory until the parts are used. This means an OEM or EMS provider doesn't pay for the parts until they are used, even if the components are held at the customers manufacturing plants.
Another advantage is that customers are virtually assured of the supply of parts even during shortages or a catastrophe when component production is disrupted.
Inventory is the thing
"A lot of our business is driven by inventory," said TTI's Vanderheyden. TTI's supply chain services are part of its Advanced Inventory Management (AIM) program, which includes simple forecasting, MRP forecast sharing, and vendor-managed inventory programs like bonded and consigned inventory and in-plant stores. Other services include bill-of-materials analysis, lifecycle analysis and obsolescence management.
Vanderheyden said demand for such services is growing because "there is more focus on total cost of ownership and less on purchasing price variance (PPV), although we still have to remain competitive on price."
He said such services are often useful to smaller or medium-size companies, but large electronics companies take advantage of them as well. Large companies include Singapore-based EMS provider Flextronics.
Tom Linton, chief procurement officer for Flextronics, said the EMS provider uses about 20 distributors and has inventory-management programs with some of the larger ones. Such programs help Flextronics reduce inventory costs, provide flexibility and help ensure that Flextronics gets parts when it needs them. He said such programs are important to Flextronics and are one reason "distributors are some of my most strategic suppliers."
Vanderheyden said that with many large electronics companies, TTI is "taking over the management of their "C" products, which include IP&E (interconnect passives and electromechanical) parts. We manage all their passives including capacitors and resistors," he said.
With such programs, TTI will take a customer's forecast and "use our own homegrown predictive analysis" to determine the number of parts that will be needed based on forecast quantities the customer needed in the past, said Vanderheyden.
TTI will then make recommendations about how much "inventory we should hold and how much inventory they should hold," he said.
About 30 percent of TTI's customers use AIM services. Interest in the services increased significantly after the 2011 earthquake and tsunami in Japan as well as the flooding in Thailand, which disrupted the production of electronic parts and materials.
"When events like those happen, companies are left scrambling for products," Vanderheyden said. "I had more customers from companies of all sizes wanting to learn about supply chain engagements with us. They weren't interested in PPV as much as continuity of supply and assured supply," he said. "They asked 'what can you do to make sure that my lines are not going to go down?'"
Bonded inventory programs are one answer. With bonded inventory, a distributor holds the inventory exclusively for the customer. If a disaster strikes and stops production, the customer is guaranteed supply of the components.
Such programs help reduce risk as well as lower the total cost of ownership of products for OEMs and EMS providers.
TTI also employs six regional supply chain managers in the U.S. to provide customers with supply chain advice on improving the efficiency of their supply chain in order to reduce cost and risk.
"Their job is to serve as supply chain consultants. They will make recommendations on how customers can address issues with their supply chain," said Vanderheyden.
The consulting supply chain manager will walk the production floor with the customer and try to identify ways to optimize supply chain flow, he said. They look at workflow, layout, optimization, lot sizing and consignment.
"They look at the recommended flow of material. They look at all the performance metrics and tweak or recommend adjustments to the customer."
Program this
Besides inventory management, another more traditional service that is in high demand is IC programming.
Demand for programming is growing for several reasons, according to Ed Smith, president of Phoenix-based Avnet Electronics Marketing Americas.
"Many customers don't want to make the investment that is necessary to have people in-house who understand programming," said Smith. In addition, programming equipment and software can be expensive.
"We can also do programming quicker. It's more convenient and more cost efficient for the customer," said Smith. He noted that there are often changes with programmable ICs, such as new algorithms and new packages, which can require new equipment and software.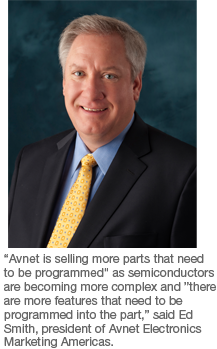 Smith added that Avnet is "selling more parts that need to be programmed" because semiconductors are becoming more complex. "As complexities increase, there are more features that need to be programmed into the part," he said.
Some OEMs or EMS providers will hire Avnet just to program parts, even if they don't purchase the chips from Avnet. In fact, some semiconductor manufacturers will use Avnet to program the chips that the semiconductor supplier makes and sells directly to customers.
"They ship us the parts, we program them, and then we ship them to their end customers with the supplier's name on the label," said Smith.
Building boxes
While demand for IC programming is increasing, large distributors report that demand is also growing for box build or system integration services.
"We do box build for Intel-based platforms such as IBM and HP servers," said Tim Kolbus, vice president of global logistics services for Arrow Electronics. "These are usually devices that go inside of something else or control modules for our OEM customers. It's system integration," he said.
Avnet also has a box build operation assembling storage servers for customers. "We build them, test them and may ship them to their end customer," said Smith.
He noted that Avnet does not build the boards in the systems. "We are not interested in the board work. We build the final box. We take a motherboard, a drive and a chassis and put them together," said Smith.
He said box build demand is growing because "customers want to get to market faster. They are building fewer proprietary boards and making the software act as the differentiator." By doing so and having Avnet handle the assembly of the box, "they can get to market quicker," said Smith.
It is also more economical for customers because they don't have to hold inventory, and they have less labor costs, according to Smith.
He said Avnet's box build business, which started with its acquisition of Bell Microproducts in 2010, competes with regional box builders.
"It's clearly a space that we're going to continue to expand," he said.
Repair, refurbish, resell and recycle
Another area that Avnet and other distributors will expand is reverse logistics aftermarket services. Avnet Services repairs and refurbishes electronics equipment for customers and disposes of systems at the end of life in an environmentally responsible way.
"We have a number of contracts with some of our large customers and suppliers where we take old equipment and repair or refurbish it," said Tony Vottima, senior vice president and general manager, Avnet Services.
Vottima said Avnet Services also does field service repair and will visit a customer site to repair equipment if necessary. Avnet Services repairs "everything from a board-level part to subassemblies, to a storage server."
When disposing of equipment, Avnet will go to the customer's site, pull out the equipment and refurbish it, sell it, or dismantle it — and then sell individual components, Vottima said.
Increasingly, companies are seeking out aftermarket services as they move to cloud computing and dispense with the need to house their own IT equipment, said Vottima.
Bob Martin, Arrow's director of lifecycle services, said demand is robust for aftermarket services. "Customers are so focused on getting product to market that the reverse logistics aftermarket piece is an afterthought for them," he said.
Arrow saw an opportunity, and in the past several years has made some acquisitions. He now also provides reverse logistics services.
"We do electronic asset disposition and bring back IT equipment from Fortune 500 companies," said Kolbus. Depending on the age and value of the equipment, Arrow, like Avnet, will either resell it or tear it down, and then "harvest" the parts and resell them. If the systems or parts have little value, Arrow will scrap the equipment "in an environmentally friendly process so the parts don't end up in a landfill," he said.
If the components taken from the systems are to be sold, they are first rigorously tested to make sure they are fully functional. Parts include microprocessors, memory chips and hard disk drives, among others. Other parts and materials that have little value or are not functional are sent to a "responsible recycler," Kolbus said.
If the systems have more value, they will be resold as used equipment after Arrow "cleans them up," erasing the hard drives and loading new software.
Arrow processes about 300,000 pieces of equipment a month for customers, according to Kolbus. "The electronic asset disposition — or what we call value recovery services — is growing and is one of our major focus areas," he said.
Aftermarket services have resulted in Arrow reaching customers "that we traditionally have not touched before," according to Kolbus. For instance, some of the big-box consumer retail stores or Fortune 500 companies that are not electronics manufacturers have become Arrow's customers for aftermarket services.
Excess inventory
Besides disposing of old IT equipment for companies, Arrow also assists electronics OEMs, EMS providers and component manufacturers in selling excess inventory.
The parts would be sold by Converge or Verical, two business units that Arrow acquired in 2010. Verical helps suppliers sell parts that are of "pristine pedigree," which means the components have not been sold to an OEM or EMS provider. "For example, a company like Freescale would certify that the products in its inventory are, indeed, Freescale products," said Tyler Moore, director, supply assurance for Arrow. Converge, which had been an independent distributor, handles excess inventories from OEMs and EMS providers. The components are considered to be "of anticipated clear pedigree even though they've already flowed out to the market," Moore said.
"Some industries only take products with clear pedigree, but other companies will use products that have flowed backward into the supply chain," said Moore.
Both Converge and Verical help buyers purchase products on the open market with a high level of certainty that the parts are genuine and not counterfeit or substandard. Parts sold by Converge are put through an extremely rigorous level of testing so there is the "highest level of understanding that the parts conform to the factory spec," Kolbus said.
Arrow also assists customers in managing component obsolescence. "For 20 years, Arrow has invested systematically with suppliers when they discontinue product lines," said Moore.
Arrow may do a lifetime buy of the discontinued part, or buy the wafer and arrange for third-party assembly. "For instance, we ship Zilog Z 8,000 microcontrollers every single month. These parts were end-of-life back in the 1990s," he said. The parts are used in weapons systems and medical equipment.
Distributors say that demand for the cradle-to-grave services that they offer OEMs and EMS providers will continue to increase. This is because such services have become an essential part of the distribution business model that customers increasingly rely upon.
For a copy of the Electronics360 Distributor Value-Added Services Survey results email Editorial Director Bruce Rayner at bruce.rayner@ihs.com.