Data published by multiple outlets the week of October 23 confirmed what many have speculated for months: Snap Inc.'s much-hyped Spectacles smart glasses are a commercial flop. According to Business Insider, internal company data reveals that under half of Spectacles owners continue to use the glasses after a month, and Snap reportedly has hundreds of thousands of unsold pairs collecting dust in warehouses.
Snap (formerly Snapchat Inc.) started developing Spectacles after acquiring smart glasses developer Vergence Labs in late 2014. The device consists of a camera built into an otherwise ordinary pair of sunglasses. The lens records videos up to 30 seconds long in a circular format that adapts to fit a smartphone's screen size and orientation. Spectacles only work with Snapchat, an app that allows users to share brief, short-lived images and videos. The smart glasses syncing with a user's smartphone and app via Bluetooth and Wi-Fi.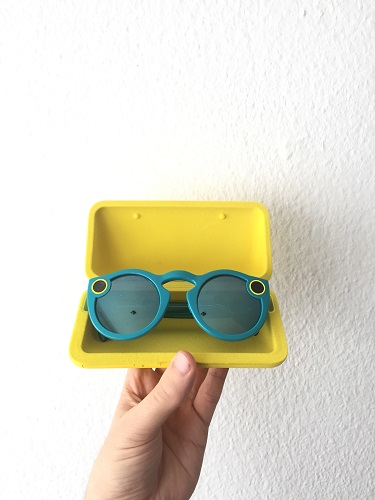 Snap Inc.'s Spectacles smart glasses. Source: Eigentlichich/CC BY-SA 4.0Snap released Spectacles in November 2016 via proprietary vending machines, and the product was released for online sale in February of this year. Snap has sold 150,000 pairs in the past year, a small amount considering the app's user base of 166 million as reported in May 2017.
Despite some good reviews from critics and owners, Spectacles look to be a complete failure driven by a number of factors. Some critics point to Snap's marketing and release plan, noting that the company generated some hype while announcing the product but failed to see it through. TechCrunch wondered if the time between the September 2016 soft launch and February 2017 wide launch was indicative of supply chain issues, helping to deflate excitement.
The fact that half of all Spectacles users abandon it after a month seem to indicate problems with the product itself. Snapchat is an app that openly encourages frivolity, so paying $130 to add an additional device likely appeals to few users. On a product design level, Snap manufactured all Spectacles with dark-tinted lenses, so users were completely unable to use them indoors without dimming their vision. Some third-party unauthorized manufacturers produce Spectacles with clear lenses, but Snap seems to have overlooked the fact that users may want to use the glasses indoors.
Are Spectacles A Reprise of Google Glass?
In many ways, the botched launch of Spectacles mirrors that of Google Glass, the most well-known attempt at commercializing smart glasses. Google announced Glass in April 2012, and throughout that year the glasses cropped up in commercials, fashion shows and magazines. Google co-founder Sergey Brin elected to release the device as quickly as possible to a limited group of "Glass Explorers"; Google hoped this group would catch bugs and design issues and report them so the company could improve the product before a wider launch.
While media outlets hyped Google Glass hysteria, reviewers were not complimentary. Early devices were affected by numerous bugs, and many reviewers struggled to find practical uses for Glass. Some users complained of headaches and dizziness, and some felt wearing the device made them feel awkward. Most early adopters complained about the short battery life. Google canceled their Glass Explorer program in early 2015 and in July of this year reintroduced the device aimed at hands-on industrial workers.
Will Smart Glasses Overcome Privacy Issues?
On a deeper level, part of the problem may be with smart glasses in general. The devices have been subject to a number of critiques as to their ethical use, safety and general functionality.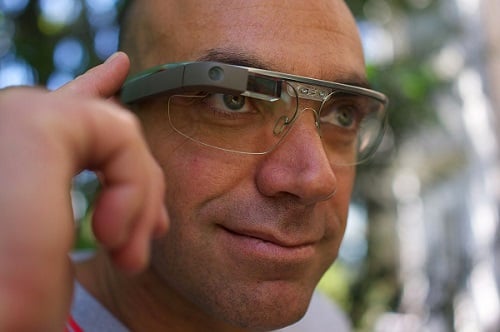 A Google Glass user. Source: Rijans007/CC BY 2.0Smart glasses raise serious concerns about privacy. Many devices feature a minimalist appearance, allowing users to secretly record unwitting subjects. Smart glasses wearers may also be able to identify strangers in public using facial recognition. These concerns led many institutions — including Las Vegas casinos — to ban the use of Google Glass before its release.
In 2013, around the time of Google Glass's initial introduction, several software engineers demonstrated that hacking the device could lead to serious privacy issues. Stephen Balaban, co-founder of software company Lambda Labs, overrode Google's operating system with his own OS and installed a face-scanning app that generates commonalities between the wearer and the subject. Developer Michael DiGiovanni developed Winky, an app that enables a user to take a photo simply by winking an eye. Finally, a security researcher named Marc Rogers found that Glass could be hacked if a user was tricked into taking a photo of a malicious QR code. These issues likely influence the fact that smart glasses have not yet taken off on a commercial level.
Privacy concerns aside, smart glasses could find niche uses in medicine and journalism fields. Equipping reporters with smart glasses could revolutionize the journalistic experience, for example. Doctors and surgeons could use smart glasses to take hands-free photos of a patient, and quickly share those photos among other doctors and medical staff.
According to B2B research group MarketsandMarkets, the global smart glasses market is worth a little over 3 billion USD in 2017, with potential for major growth within the next five years. But many critics still regard smart glasses as solutions in search of a problem, with limited uses outside entertaining personal applications. Even if a product saw a wide commercial release, the glasses are conspicuous enough that they might be subject to a longer cycle of social acceptance compared to other wearables. In short, whether or not smart glasses enter mainstream use remains to be seen.