While the recently passed CHIPS and Science Act promises to bring new semiconductor manufacturing fabs and R&D centers to the U.S. unlike anything over the past few decades, a long-term benefit might be new innovation in the consumer electronics market, according to new data from TechInsights.
Short-term impacts from the CHIPS Act won't affect product development or production of consumer demand, but in the long-term money invested in the CE sector could be seen as more countries seek to offset CHIPS Act funding with their own subsidies. This could come from the European Chips Act, which pledges to invest more than $43 billion in funding on semiconductor manufacturing and R&D.
This includes many other countries discussing options for semiconductor independence as it takes on an even greater role in all things this century, TechInsights said.
Less sophisticated
While many devices in the consumer segment — like smart doorbells, smart locks, media streaming devices — use less sophisticated semiconductors, some of the equipment used to make these chips rely on more sophisticated processors and will see an uptick as a result, the market research firm said.
With the supply chain re-globalized — spread out among different regions instead of aggregated in Asia — the risk of future shortages will be lessened, and the supply chain will be more resilient. This could provide the CE sector with a stable supply of semiconductors required for product roadmaps as well as open access to advanced chipsets like artificial intelligence (AI) capabilities and smaller form factors, TechInsights said.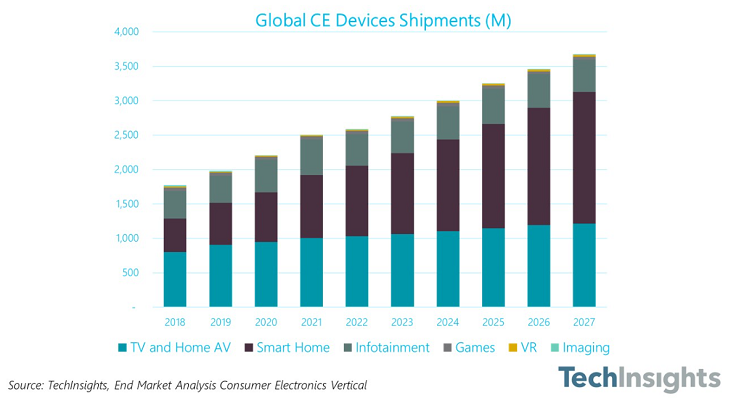 Source: TechInsights
Overall, it will take time to determine if the CHIPS Act, European Chips Act and other subsidy programs will have the payoffs they promise like supply chain stability, semiconductor flexibility and greater innovation, or if they will benefit end device markets in the next 10 years.
Supply chain resiliency
The goal of the CHIPS Act is to ensure that the supply chain is more resilient than in prior years.
The COVID-19 pandemic exposed the weakness of the supply chain as localized lockdowns impacted production of computers and automotive components. This resulted in a semiconductor shortage that lasted for more than two years.
The need for more domestic chipmaking is due to the U.S. and other regions falling behind in semiconductor manufacturing caused by a lack of incentives and support from the government. Meanwhile, governments in Taiwan, Korea and China upped their support for semiconductor manufacturing, resulting in an uneven balance in the global supply chain.
The share of modern semiconductor manufacturing located in the U.S. has fallen from 37% in 1990 to just 12% today, according to the SIA.
The hope is that when another event happens, whether it be a future pandemic, geopolitical issues or other unforeseen incidents, the supply chain now spread out among different regions will be able to withstand whatever forces are placed against it.
Already, the CHIPS Act has attracted more than 40 new semiconductor ecosystem projects across the U.S. to the tune of $186.6 billion, according to the SIA.