In news directly related to the rollout of 5G user equipment, an industry-first certification was recently announced by communications test and measurement solutions provider Anritsu. The company's New Radio RF Conformance Test System ME7873NR met Global Certification Forum (GCF) Test Platform Approval Criteria (TPAC) tests for the Frequency Range 2 (FR2) millimeter wave (mmWave) band, passing 5G NR FR2 non-standalone TPAC-compliant performance tests in July to become a GCF-approved test system for terminal certification.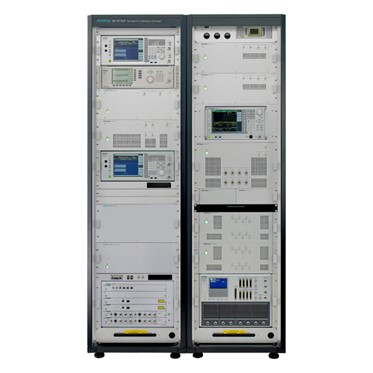 The ME7873NR has passed Global Certification Forum criteria to become an approved test system for terminal certification. Source: Anritsu The ME7873NR executes 5G NR standalone and non-standalone mode radio frequency (RF) and radio resource management (RRM) tests. It integrates with the CATR Anechoic Chamber MA8172A for 5G over-the-air Compact Antenna Test Range tests covering all 5G frequency bands, including the 3GPP FR1 sub-6 GHz band, as well as the FR2 mmWave spectrum.
According to the system's brochure, the ME7873NR offers an intuitive, easy-to-use graphical user interface to support simple creation and editing of test sequences, system environment settings and changes to parameters for mobile-device settings and test cases. Its automatic extraction of events such as fail test items, retry and log display functions also help to support compliance testing and to increase the efficiency of research and development.
Test system measurement stability is achieved through support of both basic correction at installation and automatic correction at measurement execution. By eliminating temperature change-related system variability, moreover, the system produces stable and reliable measurements with high reproducibility. The system software has built-in functions for controlling the DC power supply and temperature chamber in the same way as selecting test items, simplifying automation.
Key features of the ME7873NR include:
GCF/PTCRB-approved 5G NR test cases
Meets 3GPP standards
Covers both FR1 (sub-6 GHz) and FR2 (mmWave) frequency bands used worldwide
Flexible system configuration allows customization to meet specific test and measurement conditions
Existing users of Anritu's LTE-Advanced RF Conformance Test System ME7873LA for sub-6 GHz LTE systems can upgrade to the ME7873NR's 5G capabilities with minimal addition of hardware.
Anritsu previously helped to develop the conformance standards that led to certification, and the company stated in a press release that it intends to continue to play a key role in the deployment of widespread commercial 5G services through further certifications.