Pennsylvania-based electro-optics specialist Clear Align LLC has introduced its VZ 1200 series of medium-wave infrared (MWIR) multimodal wide area surveillance systems for long-range persistent-surveillance applications including perimeter security and border control.
According to its developers, the next-generation thermal or cooled MWIR cameras are for designed for day- or night-time wide-area surveillance, and offer 26% to 42% longer range than competitors, as demonstrated during testing.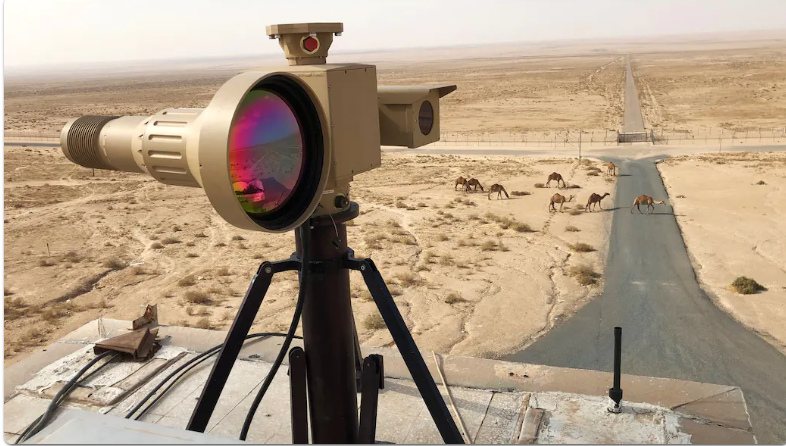 Source: Clear Align
The company suggests that the performance enhancements of the electro-optical sensors are due to advances in MWIR camera design and image processing. Further, thermal imagers incorporated technical advances in material science for mid-wave infrared, high transmission optical coatings, optical component fabrication precision and mechanical design.
The researchers explained that long-range detection, recognition and identification provide additional time to assess, decide and act upon threats like people, unmanned aerial vehicles (UAVs), land vehicles and boats.
Clear Align customers evaluated the cameras in the visible and MWIR spectra to human and vehicle targets. The evaluation of multimode surveillance systems for day and night imaging demonstrated an increase in target recognition ranges of 26%, on average, in side-by-side competition on measured ranges, when compared to five competitors.
Sensitivity improvements in the mid-wave infrared sensors outperformed the competition with data supporting up to 42% longer ranges without increasing camera size, weight, power and cost (SWaP-C).
The VZ 1200 MWIR long-range camera system integrates a 1200 mm MWIR spectral range camera monitoring electrical transmission towers as far away as 38 miles. Also available for performance imagery are systems with 900 mm and 600 mm standard and high-definition cooled MWIR sensor technology.
MWIR camera or thermal camera sensors include either standard 640-by-512-pixel indium antimonide detectors or premium high-definition 1280-by-1024-pixel indium antimonide detectors.
The cameras offer integrated artificial intelligence and machine learning that enable multimodal sensor systems automation to detect and recognize crewed and unmanned aircraft, land vehicles, people and even weapons.
The Clear Align embedded processing architecture allows for deployments either at the edge, or centralized processing at an operations center. Networking technology to link the Clear Align systems for automated command and control, target handoff, and local communications between users and the sensor suite is also included.
This handoff can be accomplished via sensor-to-sensor and sensor-to-user, whether they are deployed in the field, at the operations center, or at higher-level command centers.
The Clear Align integrated sensor systems implement a modular open system architecture (MOSA) to alleviate long-term electronic component obsolescence or COVID-era electronics shortages and supply chain disruptions.
The MOSA design also enables software upgrades to maintain long-term performance. The Clear Align open-systems architecture is upgradable, scalable and designed to manage obsolescence.
The VZ 1200 series of MWIR camera systems provide 100,000 hours of electromechanical reliability when deployed in harsh environments such as arctic cold, and can deploy in temperatures from -32° C to 65° C.
Additionally, these cameras can incorporate radar, infrared cameras, daytime cameras, laser rangefinders and other sensor technologies on mobile and stationary towers.
For more information, visit the Clear Align website.