IMA Schelling Group, a provider of sales and after-sales support of IMA and Schelling products for the woodworking, metalworking and plastics industries, has unveiled a new diode laser upgrade option for the IMA Novimat Compact R3 edgebander. The ZERO Diode Laser eliminates glue lines for optimally finished products and automates production lines, transforming them into a user-friendly, one-person operation.
Unlike traditional laser edgebanding, the ZERO laser's energy is focused on the edgebanding's functional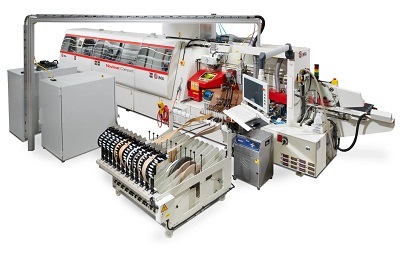 Source: IMA Schelling Group layer, which quickly melts and forms a permanent bond between the board and the surface application — the area known as the "zero glue line." This highly efficient process produces an optimal edge finish, and parts are shipped right off the machine.
The ZERO is four times more efficient than comparable hot-air or infrared systems as energy is only consumed during the laser edging process. It requires no additional consumption of compressed air. This system upgrade also quickens production with feed speeds up to 25 m per minute. The ZERO is easy to operate and requires no specialized laser experience. The program software automatically calculates laser demand. With the new ZERO laser system by IMA Schelling Group, the production day is started right after activating the edgebander. The diode laser requires no setup time such as heating glue or adjusting glue rates, nor does it need to go through a timely cleaning process.