Hamamatsu Photonics has established technology for efficiently cooling a laser medium and developed an industrial pulsed laser system that produces a pulse energy of 117 joules, claimed as the highest among laser-diode-pumped lasers. The system is expected to enhance the laser peening effect for hardening the surfaces of metal materials used in aircraft and automobiles, and should prove a powerful assist for new laser processing applications such as laser forming for shaping metal materials and paint removal.
Pulsed lasers with an output energy of around 10 joules are now starting to appear on production lines. For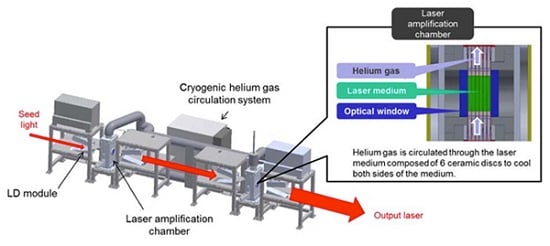 Amplifier structure of pulsed laser system. Source: Hamamatsu Photonicsthese tasks there is now increasing demand for higher energy pulsed laser systems that can irradiate a wide area and apply a shock wave deep into materials to further boost the laser peening effect. The new laser system irradiates seed light into the laser medium pumped by laser diode modules to amplify the energy to a high output level.
The industrial pulsed laser system boosts the pulse energy of seed light of 5 joules up to 117 joules by using two amplifiers, each of which is equipped with four pumping laser diode modules. Cooling efficiency is improved with a mechanism that cools both sides of the laser medium by circulating helium gas through the laser amplification chamber. The helium gas is maintained at a pressure of 5 atmospheres and a temperature of -100° C (-148° F) for stable cooling. A material resistant to low temperature and high pressures is employed in the optical window through which the laser passes.
To make the laser medium store more energy with higher efficiency than conventional devices, large-diameter ceramic discs were optimized to easily absorb light; six of these discs are incorporated as the laser medium.