The Applied Power Electronics Conference (APEC) 2023, scheduled for March 19 through March 23, will conduct its first student job fair on Tuesday, March 21, 2023, from 2:00 PM to 4:00 PM at the Orange County Convention Center in Orlando. The goal is to connect participating companies with top-quality, talented students who are already attending the conference and exhibition.
Companies — those exhibiting at APEC 2023 or not — wishing to participate in this event must register in advance. Exhibiting companies are offered discounts to participate in the student job fair. Early bird registration is available until January 6, 2023. All registered APEC student attendees are invited to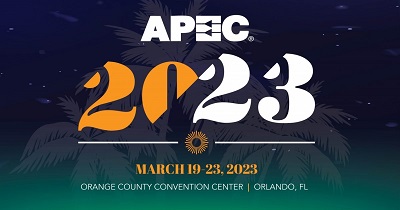 participate.
The Power Sources Manufacturers Association (PSMA) and the IEEE Power Electronics Society (PELS) are also co-sponsoring two all-day workshops on Saturday March 18, the day before APEC 2023.
"Choosing Capacitors to Improve Design Performance'' is the 6th annual Capacitor Workshop sponsored by PSMA and IEEE PELS. The workshop is designed to open new horizons of capacitor technologies, materials and environmental influences for designers and to answer questions engineers have, or will have, when working with different capacitor dielectrics.
The 2023 "Power Magnetics @ High Frequency Workshop" is the 8th annual workshop in this series sponsored by PSMA and IEEE PELS. The purpose and focus of this workshop are to identify the latest improvements in magnetic materials, coil (winding) design, construction and fabrication, evaluation and characterization techniques and modeling and simulation tools. The theme of the 2023 workshop will be magnetic component design across applications ranging from milliwatts to megawatts. For more information, visit the workshop webpage.