Meet the Nucleus 8 — deemed the world's first cochlear implant sound processor providing direct audio connectivity to everyday consumer electronics using next generation Bluetooth low-energy (BLE). The FDA-cleared sound processor is now the smallest and lightest behind-the-ear cochlear implant in the industry, offering a more comfortable and cutting-edge experience to D/deaf cochlear implant users. Cochlear Limited boasts the release as a "smaller, smarter and better connected cochlear implant technology."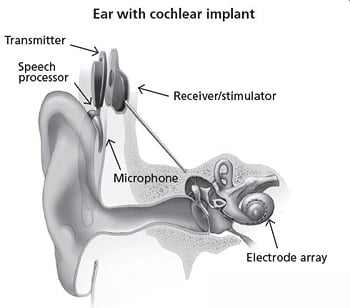 Cochlear implants do not amplify existing sound like hearing aids do, but rather help neurologically process the signals and learn to interpret it as sound. Source: NIDCD
A cochlear implant consists of an external microphone and speech processor, which interact with a transmitter surgically placed behind the ear under the skin. The transmitter connects to electrodes feeding directly into the cochlea to stimulate the auditory nerve for comprehension by the brain. Cochlear implants do not amplify existing sound like hearing aids do, but rather help the person neurologically process the signals and learn to interpret it as reality-based sound. Implants are used in cases of sensorineural deafness; the genesis being the auditory nerve and brain, versus physical parts of the ear itself (commonly referred to as conductive deafness).
D/deaf implant users will be able to directly connect to everyday technology in more places and from more devices including public venues, airports, conference centers, sports stadiums, gyms and more that support Bluetooth Auracast. Using BLE in implants gives the user the option to listen to music, answer phone calls and interpret the audible world around them in cases where they may not have immediate other means to do so.
This electronic upgrade may be advantageous to those choosing to use implants since implant maintenance is generally cumbersome. One on hand, audiologists are making leaps and bounds for those living with any level of deafness. The current maintenance process has astronomical room for improvement, though, with the undue burden of regular specialist visits for testing and software updates discouraging to some and outright inaccessible for many.
"Cochlear's goal is to help people feel empowered to connect with their world and make it easier to hear and be heard," said Lisa Aubert, president of Cochlear Americas. "In a restaurant, at work, at school, or spending time with family and friends — life's full of opportunities to engage with others. The Nucleus 8 Sound Processor is our smallest, lightest and smartest behind-the-ear sound processor yet and is designed to help people hear conversations more clearly and comfortably, wherever life may take them."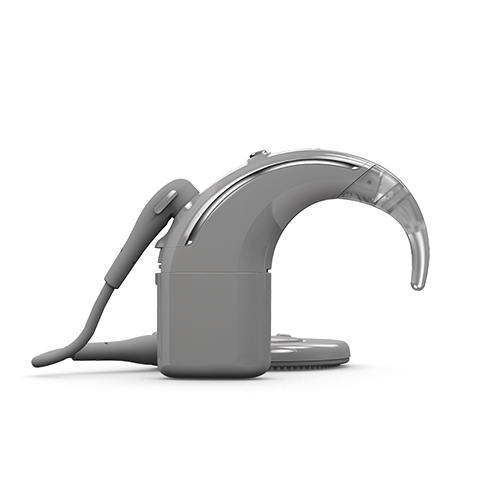 The FDA-cleared implant will be available in North America by the end of the year. Source: cochlear.com
The Nucleus 8 sound processor will be commercially available in the U.S. and Canada by the end of the year and has been approved by Health Canada. Cochlear Limited is a global leader in implantable hearing solutions.