The compact, lightweight Micro-Scope3 video inspection system from General Pipe Cleaners now includes enhancements to boost equipment performance, accuracy, versatility and convenience.
New, stronger pushrod permits inspections in 1.5 inch to 4 inch drain lines up to 100 ft long. A sonde on the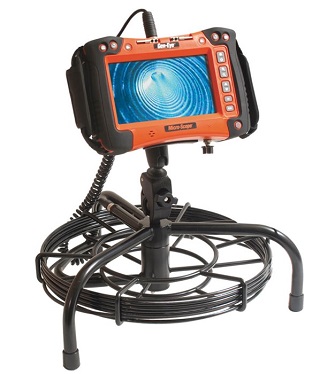 Source: General Pipe Cleanersend of pushrod makes camera location easy with General's Hot Spot locator. And Wi-Fi capability lets the user view and record inspections on smart phones or tablets.
General's rugged, reliable Micro-Scope3 is ideal for inspecting small drain lines, many toilet traps and hard-to-check locations – like ducts, furnaces and crawl spaces.
Its powerful Command Module sports a big, bright 7 inch LCD color display. And a handy USB port lets the user archive video inspections to flash drives. The feature-filled system also includes:
One-touch recording
Digital 4 times zoom
Voice-over recording
Date and time stamp
Wi-Fi transmitter
General's Command Module attaches to the reel with an adjustable mount for optimal viewing angles. The reel carries up to 100 ft of micro push-rod with color camera. A 3 ft probe rod enables the convenient exploration of difficult-to-access locations. And three standard attachments help improve viewing angles or retrieve objects.