Micro-electrical mechanical systems (MEMS) continue to grow in importance across a wide variety of applications such as state-of-the-art hardware MEMS gyroscopes, inertial sensors, accelerometers, guidance and navigation devices, infrared thermal imaging and atomic clocks for communications and defense/aerospace markets. Hermetic sealing of MEMS packages under extremely low gas pressure requires a specialized tool for thermal processing and getter activation in a high vacuum system.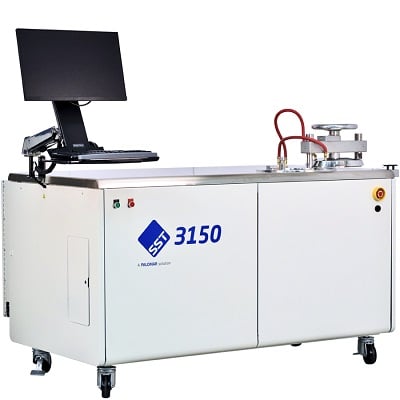 Source: Palomar TechnologiesThe SST 3150 high vacuum furnace is designed by Palomar Technologies to create high reliability MEMS packages that are hermetically sealed with very low sealed-in gas pressure and low residual moisture levels for stable long-term MEMS performance. The reliable, user-friendly Windows-based high vacuum reflow system is capable of dual zones within the vacuum chamber for high temperature getter activation and hermetic sealing of MEMS packages.
The system provides vacuum levels as low as 10-7 Torr, and temperatures up to 500° C (1,000° C optional). The clean-room compatible unit may also be configured to allow for in situ separation of lid and package, getter firing and sealing of MEMS packages. The 3150 utilizes a turbo-molecular drag pump for effective pumping of hydrogen gas molecules. An optional cryogenic water pump may be added to the system for processes requiring extremely low levels of residual water vapor.