Test system manufacturer Circuit Check has teamed up with National Instruments Corp. (NI) to realize the concept of a portable, standalone test fixture that requires no external equipment to execute a simple functional test. The new product platform, with its customizable modular design that reduces the replication costs of scaling production test capacity, is aptly named TestScale.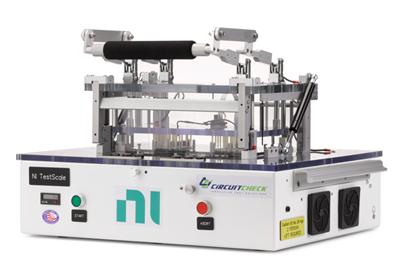 TestScale is a portable, standalone text fixture requiring no external equipment to execute a simple functional test. Source: Circuit CheckAimed at manufacturers of electronic devices and subassemblies, TestScale combines up to five I/O or power modules with a lightweight backplane that can be mounted in a rack or, ideally, inside a test fixture — removing the need for expensive cabling, mass interconnects and rack space.
Here's a closer look at each of the components of the TestScale system.
Backplane: An integrated-system simplified backplane connects to a PC though USB. It includes five slots for mixing and matching modules, including programmable power supplies and I/O, plus one slot reserved for the required core module. It is available with options for either rack mounting or in-fixture setup.
Modules: A variety of TestScale modules are available.
Software: Seamless software integration allows custom test tailoring. The NI-DAQmx driver used by the hardware also allows programming in a variety of different languages.
Sean Casey, test system engineering manager at Circuit Check, noted that the system's small form factor "allows us to design a board that provides PCB routing directly from the instrument to the DUT. This is a cost-effective and scalable design, ideal for high volume test."