A high-speed industrial robot has been designed by Comau for the special needs of cleanroom operations in the pharmaceutical, health and beauty, food and beverage and electronics industries.
Featuring a protective water, heat and grease-resistant coating, the ruggedized Racer-5 SENSITIVE ENVIRONMENTS (Racer-5 SE) six-axis articulated robot fully responds to the demand for IP67 certification, high-grade ISO 5 Cleanroom classification (ISO 14644-1), protection from chemical agents and the need to reduce the risk of contamination. The dedicated robot can reduce operator risk when working with potentially harmful chemicals and substances, and increase productivity, traceability and quality.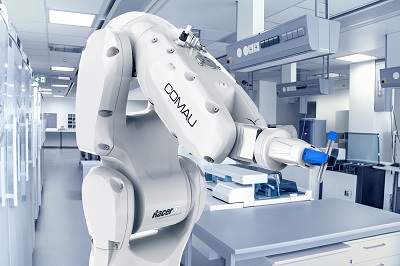 Source: ComauRacer-5 SE addresses the need for speed, accuracy and repeatability within cleanrooms and other sensitive environments by offering compact dimensions, a 5 kg payload, an 809 mm maximum reach, and a high-gloss, ruggedized element-resistant shell. The system can be deployed on a tabletop, inclined or mounted on a wall or ceiling, allowing it to easily automate applications such as the handling of pharmaceuticals in sterile filling rooms or the certified cleanroom assembly of microelectronics, while reducing overall operating costs. The white painted surface is approved for direct contact with all types of food (Reg Eu 1935/2004, Reg Eu 10 /2011 and Reg Eu 1895 /2005) and the IP67 rating protects it from peroxide, chlorine, alcohol and other aggressive cleaning agents.
With stainless steel screws and covers, this cleanroom robot can be easily decontaminated as often as needed, helping increase product quality and reduce the potential for human-related error or contamination. The electrical and air connectors and fittings are located outside the production zone, providing the robot with greater agility while minimizing the risk of damage.