Single/dual-channel isolated transmitters and signal splitters from Acromag enable the user to accomplish more in less time as a result of easy configuration via USB with Windows software or the Agility App for Android. Setup/configure, calibrate and monitor input signals for single or hundreds of input/output points for field diagnostics with these transmitters and splitters.
The TT Series is a line of space-saving, thin process transmitters and isolators that offer great flexibility. These transmitters offer a convenient USB connection to a PC and precise configuration using Windows software is simple. DIN-rail mounts and removable, front-facing wiring terminals ensure easy connections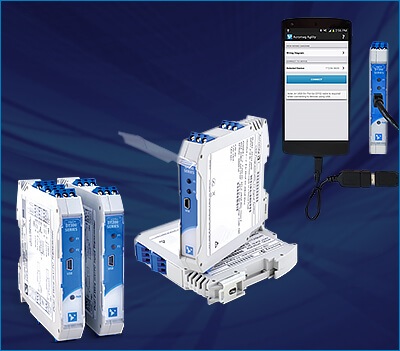 Source: Acromagand maintenance.
Dual channel signal transmitters offer a low cost and space efficient solution for multi-channel applications. The multiple-input range and tandem output voltage/current support, coupled with full input and output scalability allows the user to stock fewer unique models at a lower cost. These transmitters interface sensors to controllers or recorders in batch or continuous manufacturing processes for production of chemicals, food, metals and other materials.
Isolated signal splitters offer precise I/O scalability of input sensor/signals and dual outputs. The two-wire and four-wire instruments include removable terminal blocks to install quickly and can acquire power from either output. Sink or source output wiring connections are supported, and the ruggedized SP230 Series modules operate reliably from -40º C to 80º C while the SP330 Series modules operate reliably from -40º C to 75° C with high immunity to electrical noise and surge protection.