Phoenix Labeling, a family-owned company specialized in the manufacturing of automatic labeling equipment, designs and develops flexible, easy-to-use labeling systems. Thanks to the modularity of its machines, Phoenix's partners are always able to propose the best end-of-line labeling solutions to their customers.
What better solution than an electric Print & Apply?

The Phoenix Labeling electric range of Print & Apply AE4050 can combine different applicators and accessories to create endless labeling configurations:
- Electric linear applicator: represents the optimal solution for labeling products with variable heights, moving on a conveyor belt. The electrical movements of the applicator allow faster and more accurate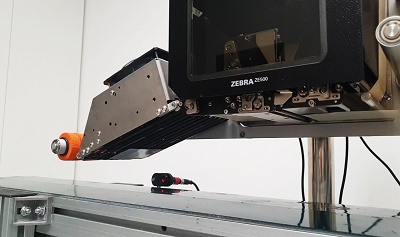 Source: Phoenix Labeling applications, and an unmatched flexibility to manage the variable height labeling process.
- Electric swing arm: the programmable rotative arm is powered by an electric motor that brings the plate to any desired angle between 0° and 180°. It can also apply two labels on two adjacent sides of the same product — in real time — and it is typically used for applications on the front/rear sides of the product.
- Full-electric belt: this wipe-on full-electric applicator allows top/lateral labeling applications on fast moving products. Thanks to a set of timing belts, the label is transported to the product with precision at a very fast pace.
The modularity concept of all Phoenix machines allows the replacement of completely different applicator modules in less than 10 minutes. In this way, the adaptability of these machines for future packaging line developments is guaranteed.

One of the main advantages of this range of electric Print & Apply is the significantly reduced use of compressed air. This is an advantage for two different reasons:

- By reducing the costs related to compressed air by 80%, the total cost of ownership of the machine will be drastically decreased, thus allowing any customer to have a very quick return from the investment.
- By eliminating the use of compressed air for the movement of the applicators, maintenance activities will be less frequent and more cost-effective.

The AE4050 range of electric Print & Apply is equipped with powerful electronics to guarantee the complete and precise control of any applicator parameter (stroke length, extension/retraction speed). Electrical movements afford accuracy and control, as well as safety for the operators.