Accurate, reliable labeling of products and packaging is essential. According to Mordor Intelligence, the print label market is expected to grow 4.2% between 2021 and 2026. Packaging and label segments have been considerably stable in the COVID-19 period, owing to the increasing demand for food and pharmaceutical packaging. However, the COVID-19 outbreak disrupted the supply chain across various end-user industries like food and beverage, healthcare and industrial.
The biggest challenges when labeling products and packages include:
• A humid environment, either heat or cold, causing labels to move or not adhere
• Evolving industry and customer regulations and standards
• Supporting multiple languages
• Equipment that is difficult to operate
• Print and apply machines that tangle labels
• Pneumatic applicators that blow labels onto the ground, creating waste and safety issues
Find an electric applicator solution that works for you
Phoenix's labeling systems combine different applicators and accessories to create endless labeling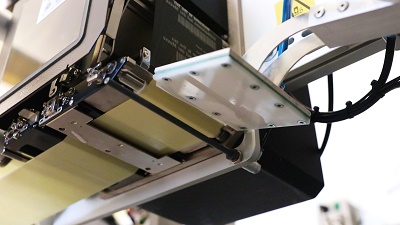 configurations to ensure that all applicable regulations, needs and goals are met.
Electric linear applicator
The optimal solution for labeling products with variable heights, moving on a conveyor belt. The electrical movements of the applicator allow faster and more accurate applications, and an unmatched flexibility to manage the variable height labeling process.
Electric swing arm
The programmable rotating arm is powered by an electric motor, capable of bringing the plate to any desired angle between 0° to 180°. It can also apply two labels on two adjacent sides of the same product in real time. It is typically used for applications on the front/rear sides of the product.
Fully electric belt
This wipe-on, fully electric applicator allows top/lateral labeling applications on fast moving products. Thanks to a set of timing belts, the label is transported to the product with precision at a fast pace.
The modularity concept of all Phoenix Labeling machines allows the replacement of completely different applicators modules quickly and efficiently. As business and production grows, the machines are adaptable to ensure work is not interrupted.
The main advantage of electric print and apply is the significantly reduced use of compressed air used in pneumatic applicators. Two reasons for that are:
By reducing the costs related to compressed air by 80%, the total cost of ownership of the machine will be drastically decreased, thus allowing any customer to have a very quick return from the investment.
By eliminating the use of compressed air for the movement of the applicators, maintenance activities will be less frequent and more cost-effective.
Electric print and apply systems deliver precise control of any applicator parameter (stroke length, extension/retraction speed) and extreme accuracy and safety for the operators.