The global market for foundries is expected to jump 20% in 2022 as the consumption of semiconductors grows across almost all industries, according to new data from IC Insights.
The growth this year follows a jump of 26% in 2021 and a 21% bump in 2020. These three years of growth came after the foundry market dropped 2% in 2019.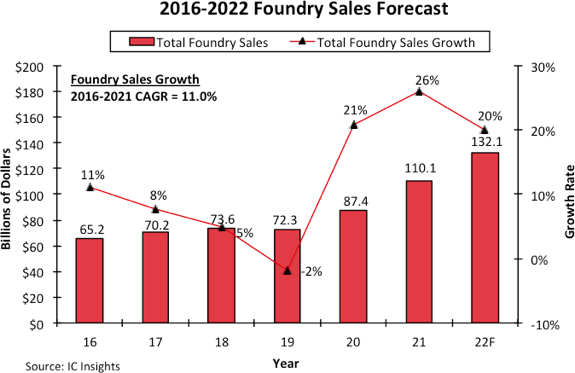 Foundry sales will see another huge year in 2022 growing by at least 20%. Source: IC InsightsIn addition to the consumption of chips growing, new innovations such as 5G, internet of things (IoT) and autonomous driving is driving the surge in foundry revenues. The growth comes as the industry is in an ongoing chip shortage where companies are scrambling to find semiconductors in every avenue of the supply chain.
As a result, IC Insights does not forecast another pure-play foundry market decline over the next five years.
China flat
Among the top 12 foundries, nine were based in the Asia-Pacific region with only X-Fab in Germany, Tower Semiconductor in Israel (which will be acquired by Intel) and GlobalFoundries in the U.S.
The foundry market in China is expected to remain relatively flat through 2026, IC Insights forecasted.
In 2020, while Chinese foundry Semiconductor Manufacturing International Corp. (SMIC) increased its sales by 25%, it was not enough to prevent a decline of Chinese foundries' share in the foundry market to 7.6%. In 2021, SMIC sales jumped an additional 39% and Huahong Group saw its sales growth rate increase at twice the rate of the total foundry market at 52% in 2021.
This resulted in the Chinese foundry market increasing to 8.5% in 2021.
While China-based foundries will use the government and private investment to expand the Chinese chip market infrastructure over the next five years, it is unlikely they will be able to compete for leading-edge foundry business, IC Insights said.
This is considering that SMIC was placed on the Entity List by the U.S. The move by the Department of Commerce requires that American companies apply for an export license before selling its supplies to SMIC, including semiconductor equipment. This effectively blacklists the company from doing business with U.S. firms.
IC Insights forecasts that the Chinese foundries will hold 8.8% of the pure-play foundry market in 2026. The Chinese foundries held a peak share in 2006 when it garnered 11.4% of the market.