The Hermes Standard is a modern machine-to-machine communication protocol, tailor-made for printed circuit board (PCB) assembly lines. As a member of The Hermes Standard Initiative with an extensive track and trace portfolio, SICK has taken on the challenge of retrofitting machines to work with this new standard.
With the SICK AppSpace SensorApp Hermes Standard Retrofit, users get a scalable solution for retrofitting machines with the SMEMA interface that will make production systems fit for digital transformation.
Prior to the Hermes Standard, a modern machine-to-machine communication protocol, information did not actually pass from machine to machine. This required an ample amount of equipment on the line, as each machine had its own barcode reader to scan a PCB every time it moved to a new machine on the line. But with the Hermes Standard, information travels horizontally, improving overall board flow management and traceability through all stations of a surface-mount technology (SMT) line; it also eliminates the need for a bar code reader at each machine.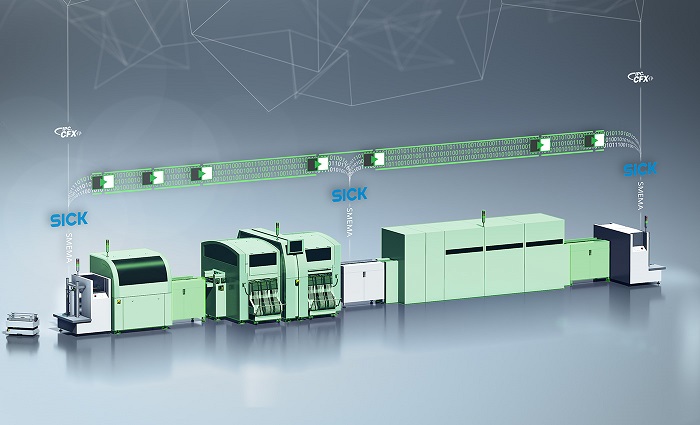 Source: SICK
A SICK gateway can be used to easily integrate a machine with a SMEMA interface into an SMT line within the Hermes Standard. The gateway communicates between machines to allow for smoother board-flow management throughout the manufacturing process. It can also communicate vertically into the architecture, such as the cloud or a controller. Essentially, it enables more effective data transfer between machines to enhance manufacturing processes.
The benefits of upgrading to Hermes with SICK include:
Reduction of hardware on a production line, which results in a reduction in investment costs
A retrofit kit with bar code scanners, photoeyes, gateways, customized app and cables for easy integration
Easy movement of data across a PCB manufacturing line
Integration and programming services available from SICK's team of digital transformation experts
Facilitates communication between different machines from all different generations