Automated E-Cal, through-reflect-line (TRL) and through-reflect-match (TRM) calibration are now available with PicoVNA (vector network analyzer) 108 units.
The PicoVNA 108 achieves calibration automation through either male subminiature version A (SMA) or female SMA E-Cal modules. These are USB-powered and controlled to electronically select the various short, open, load and through reference standards as needed within the calibration process. The operator powers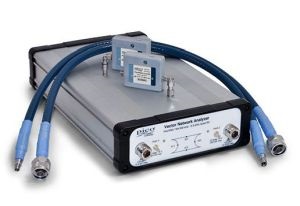 Source: Picothe module, makes a single connection of the E-Cal standard between the PicoVNA test ports, and then initiates the automated procedure from within the PicoVNA 108 user interface.
The TRL and TRM calibration mechanisms are of value for measuring substrate-mounted devices under test, such as surface-mounted networks or components. The line, match and reflections (shorts or opens) can all be readily fabricated on substrate and at precise on-substrate measurement reference planes, as on surface mount device pins. The PicoVNA 108 will support one or two TRL bands, open or short reflection standards and can account for line impedance offset if required. The TRL technique can also achieve very high-precision calibration as a machined air transmission line can be fabricated more precisely than a good match can be measured, certainly at higher frequencies.