If you've been following news on the ongoing rollout of 5G, you've certainly heard about small cells — low radio frequency (RF) access points that can be used to complement larger networks to improve coverage and support new services.
For network operators, small cells offer the possibility to increase existing wireless network capacity and meet the demands for data capacity that come with 5G use cases. Because the concept is highly adaptable — small cells can be used in public and private networks, within buildings or in outside scenarios — there has been a growing demand for small cell infrastructure. As the Small Cell Forum (SCF) explains, the 5G era will see small cells deployed in a far wider range of scenarios than in the past, with extremely varied form factors and architectures.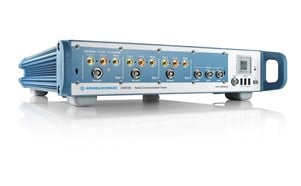 The R&S CMP200 radio communication tester has been validated by Qualcomm Technologies for small cell testing. Source: Rohde & SchwarzAll this translates into greater need for reliable testing. Technology solutions provider Rohde & Schwarz recently announced an upgrade to its R&S CMP200 radio communication tester with a new option that brings its ultrafast measurement speed and parallel testing of multiple devices under test (DUTs) into the small cell realm. Validated by Qualcomm Technologies, makers of a scalable platform geared toward 5G network densification requirements and fast-past network upgrades to 5G, the solution is supported by the Qualcomm Development Acceleration Resource Toolkit (QDART) for Small Cells.
According to Rohde & Schwarz, the R&S CMP200 is a non-signaling solution for 5G millimeter wave (mmWave) RF parametric testing. As an intermediate frequency (IF) tester, it combines vector signal analyzer and ARB-based generator functionality. The compact integrated solution can be customized with up to three R&S CMPHEAD30 remote radio heads (RRH), for up and down converting signals to 5G FR2 frequencies. The separate one-box tester and the R&S CMPHEAD30 RRH concept allow short RF cable lengths for an optimal link budget in radiated test environments — enabling testing of fully assembled FR2 devices and RFICs with both IF and mmWave RF interfaces.
As Gerardo Giaretta, a Qualcomm product management director, explained: "With the Qualcomm FSM100 5G RAN Platform's unmatched data speeds, capacity, power efficiency and global band support, vendors that integrate with this solution, for which the R&S CMP200 is optimized, will be better prepared for the next generation of connectivity."