Extended reality (XR) headsets, including augmented, virtual and mixed reality devices, present a unique testing challenge. Qualifying the visual experience within the headset depends upon a combination of different viewing parameters. Some, like the user's field of view (FOV) and the human eye's sensitivity to light, can be met with relatively standard optical designs. But the wide variety of XR headset form factors makes it difficult to measure the proper position of the entrance pupil — that is, the portion of the eye governing how much light passes through.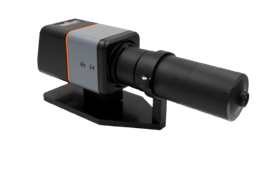 Along with a novel optical design demonstration, this AR-VR Lens for near-eye display (NED) testing will be featured at Photonics West in San Francisco. Source: Radiant Vision SystemsTraditionally, as test and measurement solutions provider Radiant Vision Systems explains, this challenge has been met with bespoke optical designs that adapt each imaging system to fit each headset — a costly and time-consuming process for XR manufacturers.
Radiant's answer is a novel optical design concept that encompasses electronic-focus optics to enable imaging at multiple focal distances without changing entrance pupil location or the length of the imaging system's lens barrel. Also available are optional folded optics for imaging at 90°, to address situations where headset hardware prevents a direct path to the entrance pupil position. Consistent imaging performance across configurations can be seen through XR display analyses in Radiant's TT-ARVR software platform.
The concept works in conjunction with metrology tools like Radiant's ProMetric Imaging Colorimeters and Photometers to capture and evaluate the full FOV from the intended position of the user's eye inside the headset. These tools, according to the company, capture images with the same sensitivity as the human eye; they apply the longstanding, universally accepted spectral sensitivity functions as defined by the Commission International de l'Eclairage (CIE) to describe the eye's light response.
As a result, ProMetric systems can quantify accurate brightness (luminance) and color (chromaticity) values for each pixel in an image of a display, and to compare these values in spatial context to ensure a display has proper contrast, uniformity, sharpness and focus. When paired with wide-FOV lenses, values of light across a display can be captured at angular positions — just as XR displays are visualized in the headset.
Radiant's novel optical design concept will be demonstrated at Photonics West, running Jan. 22-27, 2022, in San Francisco. Its specially designed AR/VR Lens for near-eye display (NED) testing will also be on hand. Visit Radiant Vision Systems online to learn more.