Electric vehicles (EVs) have not been a big part of the world's largest trade show, CES, in the past. Instead, it has been an outlet to showcase crazy automotive concepts and next-generation dashboards and displays.
That all changed at this week's CES 2022.
The show has been alive with numerous EV announcements everywhere, and not just for consumer passenger vehicles either. There are boats and bikes and even industrial equipment that has been introduced at the show for the first time.
The electrification of CES comes as the automotive industry is currently undergoing two simultaneous transitions: the move to all-electric infrastructures and the introduction of automated capabilities en route to self-driving cars. The boom to move to EVs in consumer and commercial vehicles has been brewing but it took off shortly after last year's CES. In January 2021, all the major automotive OEMs announced that they would transition to selling primarily electric models by 2030 including General Motors, Ford, Volvo, Volkswagen, BMW, Honda, Toyota, Hyundai and everyone else.
First EV
Chrysler, a division of Stellantis, announced its plans for its first battery EVs that will be introduced by 2025. Maybe more significantly, the company said it plans for an all-electric Chrysler vehicle lineup to be ready by 2028.
Chrysler called its brand transition the Airflow Concept that will provide new vehicles with a connected experience with all-electric designs including smart cockpits and a connected hub that will deliver digital lifestyles into vehicles.
The EVs will be equipped with Level 3 autonomous driving capabilities and will be upgradeable via over-the-air updates. The EVs will include all-wheel drive and are powered by two 150 kW electric drive motors, one in the front and one in the rear. The company said the EV would have a range between 350 to 400 miles.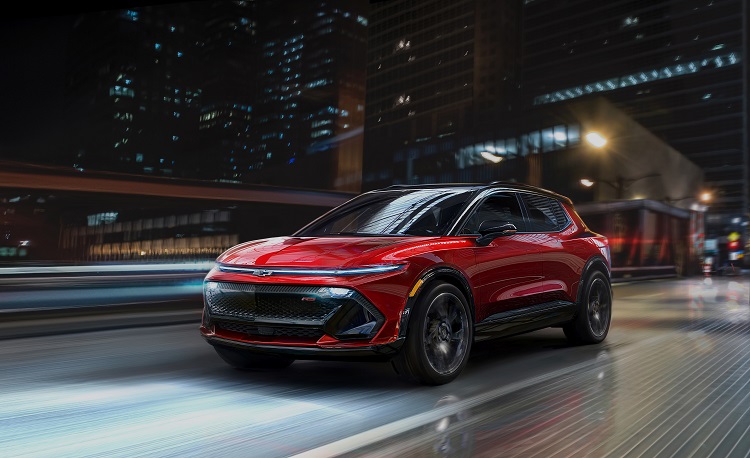 The Chevy Equinox will be added to GM's lineup of new EVs coming in the next few years. This will be an SUV type that will be joined by a new all-electric Silverado pickup. Source: GM
Chevy pickups and SUVs
General Motors introduced two new EVs at CES 2022 including the electric Silverado pickup truck and a new Equinox SUV.
The Equinox EV will be added to the GM lineup in the fall of 2023 and will be estimated at a price around $30,000 in the U.S. The company will launch both fleet and retail versions based on GM's Ultium architecture.
The Silverado EV will also be available in 2023 and it will also be based on the Ultium EV platform. The pickup will include four-wheel steering, adaptive air suspension, multi-flex tailgate, infotainment center with a 17 inch display, super cruise control for hands-free driver assistance and more.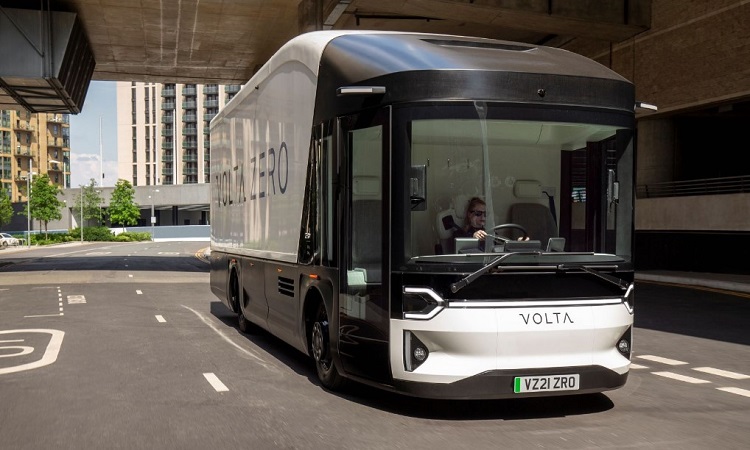 Volta Trucks signed an agreement with HERE to provide navigation technology for its all-electric industrial trucks to better deliver and map inner cities. Source: Volta
New deals made
CES brought several new deals for EVs including Walmart and FedEx signing a deal with GM's BrightDrop to buy a fleet worth of the company's new EV vans that will help with delivery.
Volta Trucks, a commercial EV maker confirmed that its upcoming new Volta Zero EV truck will use integrated navigation services from HERE Technologies. The navigation services will be tailored for inner city deliveries and allows the trucks to plan routes including multiple delivery stops. Search, routing, real-time traffic and turn-by-turn voice guidance will be available off and online.
Amazon made a deal with Stellantis to add its Ram ProMaster vans to its fleet when the vehicle launches in 2023. The move is part of Amazon's push to meet carbon neutral pledges by 2040.
The agreement would be in addition to Amazon's 100,000 electric delivery truck order it placed with Rivian, who the company also invested in. The agreement with Stellantis would be part of a larger partnership that would also focus on software and in-vehicle technology.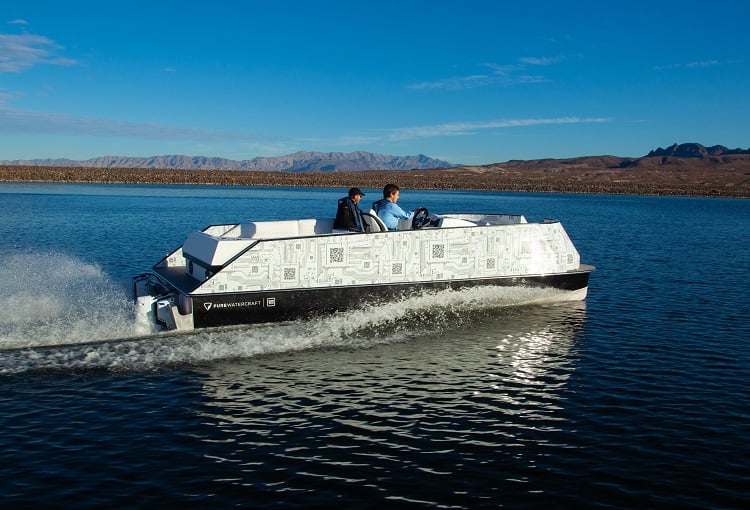 Pure Watercraft has introduced what it calls the first all-electric pontoon boat using batteries from GM. Source: Pure Watercraft
Boats and bikes
Consumer and commercial EVs were on full display at CES 2022, but it wasn't the only vehicle at the show that was electrified.
Boat maker Pure Watercraft unveiled what it claims is the first all-electric pontoon boat at CES and opened pre-orders already. The product is the collaboration between GM and Pure Watercraft.
The pontoon is a 24 ft 7 inch boat that has a top speed of up to 23 mph and a capacity of up to 10 people. The boat is powered by single or twin outboard motors and a GM battery pack of up to 66 kWh. The boat could be used for cruising, watersports and fishing while providing a quiet experience compared to combustion engine boats.
Meanwhile, Damon Motors unveiled a new family of all-electric motorcycles called HyperFighter built on the company's Hyperdrive technology that includes a multi-variant powertrain. Damon received a CES 2022 Innovation Award for the new technology.
The bike family includes three iterations and a 360° warning system that uses radar, cameras and non-visual sensors to track the speed, direction and velocity of up to 64 moving objects. The Shift feature is an ergonomics system that allows riders to transform their riding position with adjustable handlebars and retractable windscreen.
Track loader
Doosan Bobcat introduced what it claims to be the first fully electric compact track loader at CES 2022.
Called the T7X, it offers the full benefits of eliminating a hydraulic system, components, emissions and vibrations while being a cleaner operated machine. The load is fully battery powered and built with an electric actuation and propulsion while being quieter than any diesel-fueled track loader. The new, all-electric Bobcat T7X uses only one quart of eco-friendly coolant compared to 57 gallons of fluid in its diesel/hydraulic equivalent model.