The new Moog Test Controller is a 1-to-500-channel system that controls and collects data from any hydraulic or electric test rig. Engineers designed the controller for tests including airframe components, automotive sub-assemblies, engine components and full-scale structural checks.
According to Craig Lukomski, product market manager for simulation and test at Moog, "The Test Controller core modules are identical hardware for traditional automotive and aerospace applications, so we simply call it the Moog Test Controller. Lab managers can select customized hardware accessories and one of two controller software packages, either the Moog Integrated Test Suite for a variety of markets or the Moog Aerospace Test Suite for the aerospace industry."
"We've put more into a footprint that's 50% smaller than prior designs, and we've actually attained a much higher control loop rate—up to five kilohertz," said Jeff Townley, senior applications engineer and sales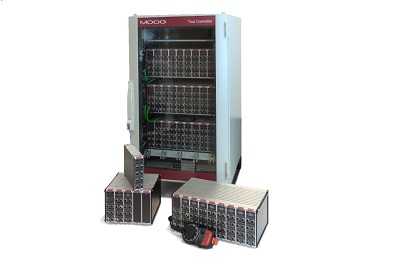 Source: Moog manager for Moog.
Processing much larger chunks of data translates into comprehensive data analysis and reporting, 24-bit resolution, and high signal quality that engineers and technicians can tap to track the smallest details for precise control. Test lab managers can also use the new controller to run anything from a one-channel assessment up to a full-scale fatigue test, which could exceed hundreds of channels operating synchronously.
The new Test Controller's design lets test lab managers easily choose between a centralized or distributed set up. With a centralized set up, they can locate their controls in the same room, running cables out to actuators on the test article. In the latter case, they can distribute the channels around the test rig and minimize the length of each cable by running only one or two cables back to a control room.