A new development board has been introduced by Avnet Inc. that is designed for engineers, professionals and makers to build artificial intelligence (AI) edge applications.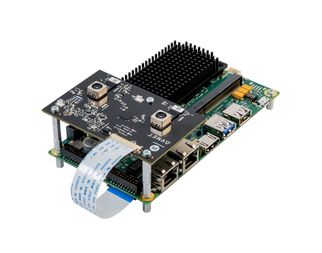 The edge AI developer board allows engineers to build AI or ML applications in a compact form factor. Source: Avnet The kit includes an embedded SMARC computer-on-module (COM) based on NXP's i.MX 8M applications processor, combined with a production-ready SimpleFlex Carrier and 10.1 touch display. Additionally, the kit includes a dual camera vision board that can support single or dual IAS camera modules based on On Semiconductor's image sensors.
The single board computer fits in a compact external dimension of 146 mm x 80 mm and is suitable for operations between -40° C and 85° C.
The kit enables advanced AI and machine learning applications to run faster on the edge through the power efficient neural processing unit (NPU) and enables more autonomous systems where cloud connectivity is not required or can supplement the system's capabilities with higher-level functions.