Fluke has launched the 1770 series power quality data logger/trouble shooter, the first instrument built on the company's future platform for power quality analyzers with big gains in both form factor and operability.
Typical applications for the Fluke 1770 series include routine maintenance and troubleshooting of equipment and power supply problems, energy surveys and optimization and new equipment installation.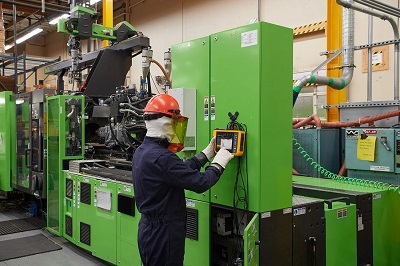 Source: FlukeThese measurements are often required in industrial and commercial facilities, universities, hospitals, electrical service providers and service organizations to ensure continuous, safe, efficient operation of the electrical system. Its intuitive operation and automated connection verification make the 1770 ideal for use by professional engineers and less experienced users working in equipment installation, commissioning and servicing.
The 1770 measures and automatically captures key power quality parameters including harmonics, dips, swells, unbalance, inrush current and more giving users the assurance that they are getting the right measurement results every time. The bright, large touch screen display coupled with physical navigation buttons and an optimized user interface means it is easy to change settings, manage logging sessions or investigate data in the field whether located inside a dark building or in direct sunlight — even with gloves on.
Guided setup functionality gives users quick, fool-proof setup every time including the ability to auto-correct measurement connections digitally without having to change the physical probe connections, which improves operator safety. Custom views can be set up to get the most important tests and data quickly, making it faster and easier to perform tests and allowing less experienced technicians to make field measurements with confidence.
The device is powered directly from the measured circuit so there is no need for users to find a nearby power outlet or worry that logged data will be lost by a power cord being unplugged. The 1770 series utilizes common accessories from existing Fluke products including voltage test leads, current probes and hanger kit, offering users cost savings by being able to use them on multiple instruments.