As electronic devices have continued to shrink in size while increasing in complexity, the need for advanced techniques of testing and inspection has grown. Automated optical inspection (AOI) is a common technique used in PCB manufacture, for instance, but its utility is limited by the bounds of visible light. Automated X-ray inspection (AXI) transcends those bounds, allowing inspection of features hidden from view — such as ball grid arrays, which make use of an array of solder balls at the bottom of surface-mount packaging.
Yet, AXI systems have limits of their own. They tend to be designed to handle standard device under test (DUT) sizes, with limited capabilities in terms of both specimen transport and image acquisition. As German testing and inspection system developer Goepel Electronic said "AXI systems aren't usually flexible enough for the full range of inspection tasks presented by a modern electronic assembly process."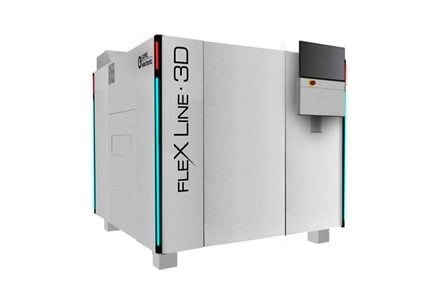 The fleX Line · 3D performs high-quality image capture for assemblies within a wide size range. Source: Goepel Electronic.To address those limitations, the company has developed a new inline X-ray system capable of high-quality image capture for assemblies within a wide size range. Its fleX Line · 3D system will be presented at productronica 2021, the electronics development and production trade fair to be held in Munich in mid-November.
According to the company, the new machine features a variable belt conveyor with the flexibility to transport assemblies that are both small and light, and large and heavy. Built around a fixed-position DUT image acquisition technology, the granite-based, six-axis system holds the DUT at rest during the inspection process, providing image data without blurring during 2D, 2.5D and 3D X-ray inspection tasks.
The inspection flexibility implied by the name of the system itself can be seen in a look at the specs: maximum DUT dimensions are 24 inches (610 mm) x 20 inches (508 mm), which can optionally be increased to 47 inches (1200 mm) x 20 inches (508 mm); maximum weight is 33 lbs (15 kg). The fleX Line · 3D can also inspect loose DUTs, and thin, flexible PCBs in carriers or blisters. Support for both line and area detectors, as well as different X-ray sources, is also built in.
Moreover, the system implements self-monitoring and calibration for quality control, with preventive maintenance instructions communicated to human operators, making it a fit for the ever-expanding world of Industry 4.0.