As new wireless and satellite technologies have presented ever-wider frequency ranges and increasingly demanding requirements, the importance of realistic signal simulation in radio frequency (RF) system design has continued to grow.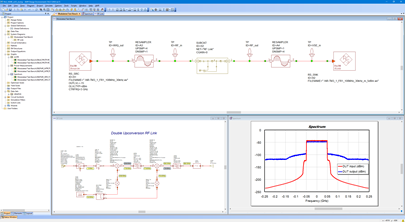 The new R&S VSESIM-VSS software tool was developed to speed up the development process of RF system design. Source: Rohde & SchwarzTo address the expanding need, test and measurement solution provider Rohde & Schwarz, based in Munich, Germany, and Cadence Design Systems Inc., an electronic design company based in San Jose, California, have collaborated on a new tool that it claims simplifies the engineering process and speeds up development. A key component of the solution is its utilization of the same signal creation methods and analysis algorithms for both simulation and subsequent hardware testing. This enables direct correlation of results from the early design stages to implementation verification, increasing the potential for successful first-pass designs.
Aimed at users in the wireless, automotive, and aerospace and defense industries, as well as for manufacturers of active components and systems, the R&S VSESIM-VSS signal creation and analysis tool allows conclusive and consistent analysis of widely used key performance indicators (KPI) such as error vector magnitude (EVM). The tool supports a wide range of major standards, including 5G and the latest evolutions in Wi-Fi.
R&S VSESIM-VSS functions as an addition to Cadence's Visual System Simulator (VSS) software, an established system simulation and modeling solution for wireless communications and radar design. The new tool benefits from two established Rohde & Schwarz solutions for testing operative circuits, modules and devices: the signal generation capabilities of the R&S WinIQSIM2 simulation software and the signal analysis capabilities of the R&S VSE vector signal explorer software. These functions are combined in the R&S VSESIM-VSS, serving as data source and data sink plug-ins for Cadence electronic design automation (EDA) tools.
The latter plug-in provides access to the signal at any point in the design process. The signal can be transferred to a vector signal generator and applied to available hardware, enabling system level analysis of hybrid hardware/simulated implementations. R&S VSESIM-VSS also supports direct digital predistortion (DPD) techniques to verify the effects of linearization already in the simulation phase of power amplifier development.
In addition, signal generation and analysis provided by the Rohde & Schwarz solutions can be used in other connected Cadence products, such as the Cadence Microwave Office circuit design software or the Cadence Virtuoso RF Solution for radio-frequency integrated circuits (RFIC) and RF modules.