Most automotive OEMs have set a target date to transition to primarily selling electric vehicle (EV) models by 2030. This is a colossal change in the industry. One that no doubt will create many challenges for the industry, including the massive need for more EV charging stations.
New EV charging infrastructure is coming globally as demand for EVs increases. In fact, experts believe operators will increase charging infrastructure at a much higher rate than the demand for hydrocarbon fuels that grew steadily over the previous 120 years.
IHS Markit forecasts that the number of public and semi-public charging stations will increase at a compound annual growth rate (CAGR) of 28% between 2020 and 2030. In the U.S., the CAGR will be 32%. Public stations are available for use to any vehicle if it meets the charging requirements. Semi-public charging stations have some restriction on use — meaning a driver must buy something (at a hotel or shopping mall for instance) to use it.
"It is vital to the success of electric vehicle adaptation that charging stations are available to consumers," said Andrew Fox, CEO of Charge Enterprises. "EV sales growth is outpacing the broader auto industry only magnifies that there is equal importance in the expeditious installation of a stable and secure EV charging infrastructure, execution must be strategic and well planned but also have a system in place for service and maintenance."
Charging Enterprises offers to integrate EV charging stations into already existing infrastructure, eliminating the need to construct a brand-new location or building. The company partners with charging station manufacturers to install their products into existing locations, residential and commercial.
Without the proper and timely infrastructure utilization, it will be even more difficult to meet EV goals of automakers as well as to reduce the dependence on fossil fuels and reduce greenhouse gas emissions to improve climate change, Fox said.
Current demand
EV charging infrastructure is deemed to be meeting demand today, but it varies greatly by region, country and local geographic areas.
In Europe, one study found that more than 70% of all European charging stations were found in just three countries: The Netherlands, France and Germany. Meaning some countries lack the infrastructure to meet demand today and will have to build even more infrastructure than those already ahead of the market.
Choke points on certain days in certain locations have been evident — such as during holidays where long lines were seen for charging stations.
There are about 40,000 EV charging stations in the U.S. with 97,000 outlets for individual EVs. These stations serve 1.8 million EVs registered. While that may be enough to fill current demand, EV sales growth is outpacing the broader auto industry. Combined with the fact that public charging stations take about 45 minutes to charge a vehicle (or around 10 hours at a home charging point), many more charging stations will be needed to meet growing demand.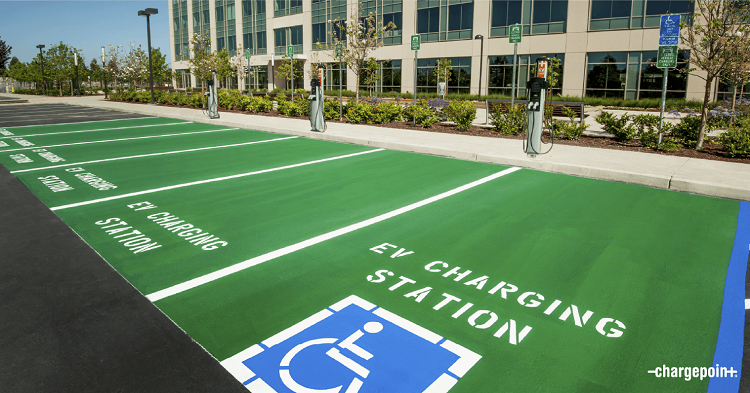 Fast charging stations will be critical to gain consumer acceptance of EVs and to get cars back on the road quickly. Source: ChargePoint
Future demand
To keep pace with new EVs coming to market — which is an estimated 18 million by 2030 — a whopping 9 million stations will have to be installed in the next 10 years.
Globally by 2030, there will be 125 million to 220 million EVs on the roads. As such, EV charging installation is not just strategically important, it is necessary to the success of the transition to EVs.
"Some infrastructure providers state one public station is needed for every four EVs," said Graham Evans, director of automotive supply chain and technology at IHS Markit. "However, we estimate this to be high. In 2019, IHS estimated the global ratio to be around 8 to 1 and improving to 7.5 to 1 by 2022 because of accelerated infrastructure rollout."
But this ratio depends on local population levels. In dense urban areas like Seoul, Korea, many people live in apartments or condos where in-home charging is not possible. So more public infrastructure will be needed to meet demand, like a 3 to 1 ratio. However, in less densely populated areas in the U.S., in-home charging is expected to meet more demand, so a ratio may be closer to 10 to 1.
"That might seem insufficient, but individual cities like New York, or states like California, present specific requirements not dissimilar to Seoul," Evans said. "And separately, major highway routes require much more abundant fast charge stations for the reasons mentioned, and this can get lost in such a ratio."
Fast charging
Of these new installations, fast charging will be a priority for both practical reasons and from a visibility perspective. Practical because getting EVs back on the road quickly is a priority and this requires DC fast charging, with higher power to facilitate more miles added per minute of dwell time. From a visibility perspective, seeing more DC fast charging stations on roads will encourage would-be EV adopters to go and buy one, Evans said.
"Right now, many typical consumers have a lack of awareness of where stations are, how to use them, how quickly they will charge and how the process works," Evans said.
While DC stations are more expensive to install and operate and installation is challenging because the cost can be attributed to the grid connection, DC stations are critical to the adoption of EVs as consumers will want as close to gasoline time frames when recharging their vehicles.
Traditional players getting involved
As demand for EVs grows and automakers begin to shift to new models as their primarily revenue source, traditional gas and oil companies are getting on board.
Earlier this year, Shell vowed to install 500,000 charging stations by 2025 to meet increasing demand globally. Shell currently has 60,000 active charge points today. The move by one of the world's biggest energy companies is part of its plan to become a net-zero emissions energy business by 2050. Shell is making the pledge to support the goal of the Paris Agreement on climate change to limit the global temperature rise to 1.5° C.
Oil company BP is also looking to expand its charging point with a recent $7 million investment in IoTecha that will help BP to reach its goal to provide more than 70,000 public EV charging points worldwide by 2030.
"I see oil companies naturally trying to somewhat futureproof their core business model associated with light passenger vehicle refueling, whilst also having their own net zero and carbon neutrality targets to meet," Evans said.
Evans sees oil companies not just investing in startups moving forward but in a variety of technology innovations such as Shell's recent acquisition in Ubitricity, which offers lamp post charging technology.
"In most cases, these companies are largely cash rich and in a position to 'take a punt' on new companies whose technologies may become strategically important to the infrastructure puzzle," Evans said. "If it doesn't pay off, the outlay is relatively insignificant on their balance sheets."
Nationwide coalition forms
This week, the National EV Charging Initiative was created to spur the construction of the nation's EV charging network.
The coalition includes automakers, workers, utilities, suppliers, investors and public interest advocates that have agreed to push for deeper commitments from each other and the federal government to deploy the charging stations needed to meet upcoming demand for EVs as well as create domestic jobs and curb climate change.
While many in the group will pledge to make their own, private investments in this network, the group will also advocate for funding and other support from the public sector. The Biden Administration has pledged to phase out gas and diesel-powered government vehicles and replace them with electric models. Additionally, Biden wants to build 550,000 charging stations.
The recently introduced U.S. trillion-dollar infrastructure bill, which was passed by the Senate this week, has provisions that include support for EV charging stations. If passed, the bill would allow for several billions of dollars to go toward the installation of charging stations for public use and in-home domestic charging.