Test and measurement supplier TEVET has acquired LibertyGT from RADX Technologies Inc. A real-time spectrum analysis (RTSA) radio frequency (RF) record and playback system, LibertyGT brings flexibility and high precision to electronic warfare and 5G applications.
The LibertyGT family of software-defined synthetic instruments has the ability to acquire, analyze and present results for unique measurements far faster than traditional methods, due to its real-time, signal-based nature. This makes it ideal for automatic test equipment systems integrators and volume end-users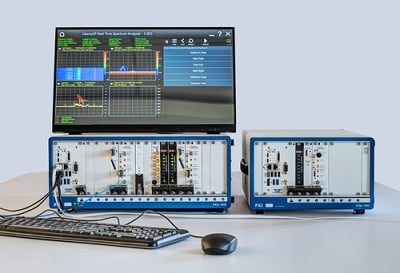 Source: TEVETwho develop, qualify and deploy systems with multiple users and installations.
LibertyGT brings a flexible, programmable and commercial off-the-shelf solution to real-time RF testing of threat response applications. Its streamlined, all-in-one PXle instrumentation can replace competitive rack-level systems with separate record/playback technology and external storage systems. Modular, portable and scalable, the platform comes with RADX Trifecta-SSD RAID modules that can provide 64 terabytes of storage in a single PXle slot.
The system features real-time signal analysis and multichannel RF record and playback for up to 16 synchronized channels. It is optimized for wideband RF record and playback and supports bandwidths from 50 MHz to 1 GHz. LibertyGT's scalability and range give test engineers a flexible and adaptable tool for identifying electronic warfare, 5G signals and other new and emerging threats.
The LibertyGT application programming interface supports NI LabVIEW, NI TestStand, C/C++, Python, and MATLAB via local and remote (TCP/IP) interface.