Industrial & Medical Technology
Versatile DIN enclosures for almost any application
09 July 2021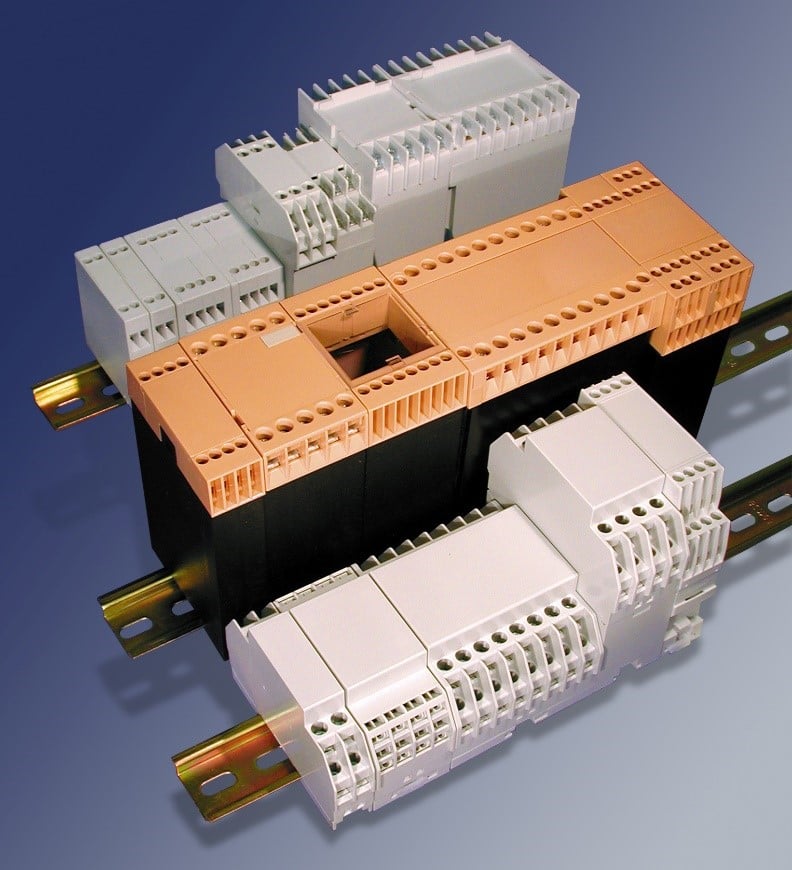 Figure 1. Enclosures: The unsung heroes of DIN rail applications. Source: AltechDIN rail is based on a concept so elegant that its growth is expanding more than a century after it was conceived: DIN rail terminal blocks housing electrical and electronic modules represent a $26 billion global market that is expected to grow by up to 6% annually in the next few years. Although DIN rail enclosures play a significant role in DIN rail, they rarely gain the attention they should, so this article will help remedy this situation (Figure 1).
DIN rail was born in Germany in the 1920s driven by the increasing number of electrical connections required as industrial electrification became more complex. At the time, these connections were made on bare control panels that relied on whatever terminals were handy, even nuts and bolts, and some form of insulator. Not only were these panels difficult to construct, but they were also equally hard to maintain, unreliable and unsafe. The biggest problem was that the more connections there were, the larger the panel had to be. Clearly, a new approach was needed that allowed more connections to be placed closer together to save space.
The solution was a small porcelain tray with an integrated metal bus bar that connected the wires through screw terminals. To increase connection density without compromising safety, the terminal blocks were packed into long strips with one side enclosed by the porcelain to reduce the possibility of electrical shorts. To make removal and repositioning of the blocks easy and to ensure a block could not be installed backwards, the metal rail was asymmetrical. The blocks clipped into it, resulting in a strong mechanical connection while allowing the blocks to slide along the rail. DIN rail was an instant success throughout Europe, and although it took some time to displace rack panels in the U.S., it is now ubiquitous. A variety of variants have also been created over the years to meet the needs of specific applications, as well as widths of 32 mm and 15 mm, but the symmetrical 35 mm wide top hat DIN rail has become the most commonly used and accommodates a wide range of industrial control products and components.
The role of DIN rail enclosures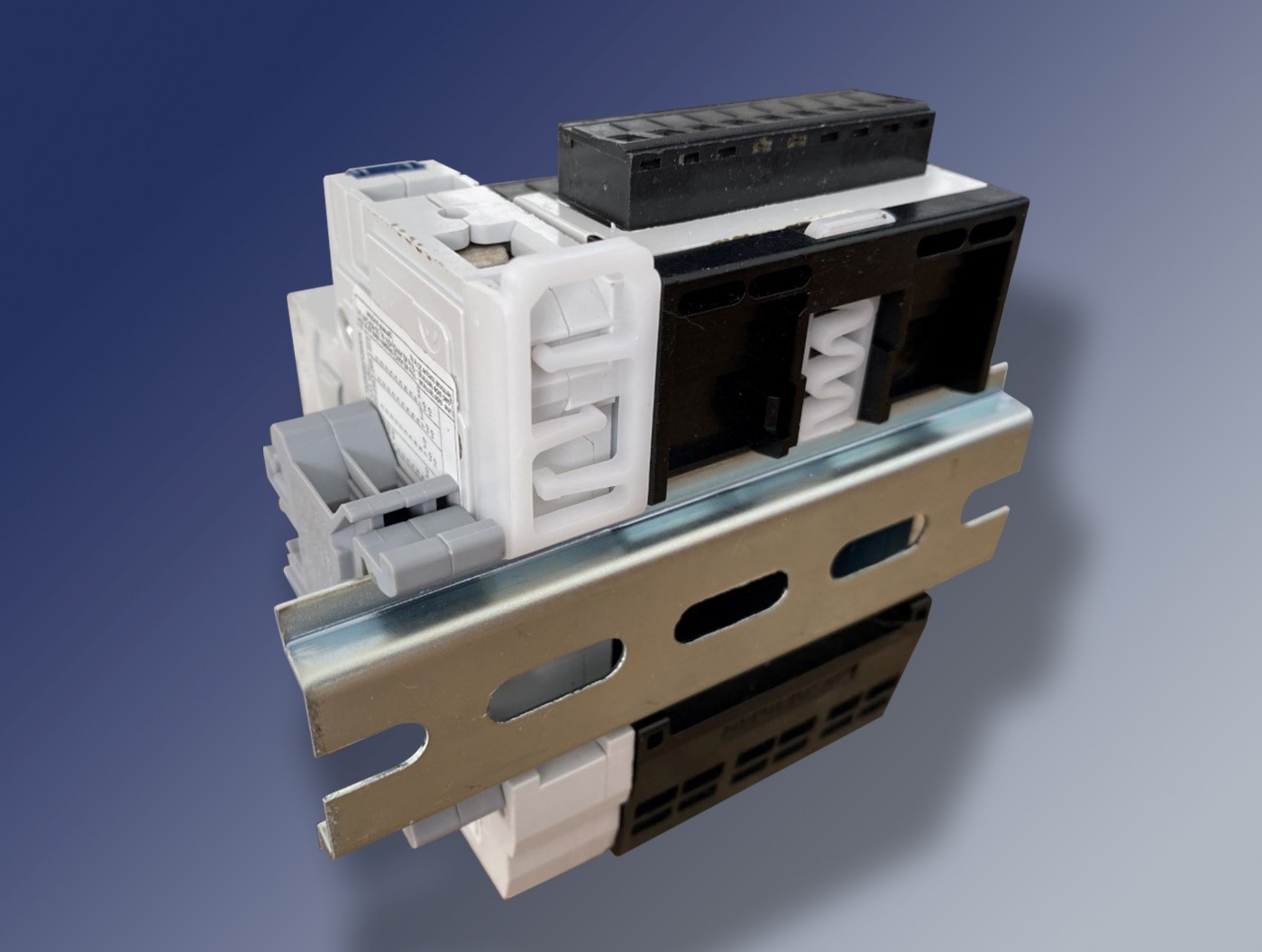 Figure 2. A rear view of a DIN rail with terminal blocks, a circuit breaker and a DIN enclosure mounted on it. They are displayed upside-down for a better view of the latches. Note the release loops at the top of the mounted devices that unclip them. Source: Altech
DIN rail components like terminal blocks and circuit breakers mount directly to the DIN rail via mounting feet or latches (Figure 2). What DIN rail did not initially provide was a protective case around electrical devices and later electronic components, so the DIN rail enclosure was devised. PC boards installed in DIN rail mount enclosures are kept in place by PC board guides or screw mounted to standoffs. The enclosures facilitate wiring by providing integrated terminals on the outside of the enclosure that connect to the internal PC board via wire jumper, card edge connections or machine solderable pins. Almost any PC board can be put on a DIN rail and as these enclosures are generally designed to be used indoors water protection is unnecessary with IP 20 or IP 40 rating typical for finger protection.
From a board manufacturer's perspective, the goal is to reduce or eliminate the need for enclosure customization purely to support a PC board of a specific size. Fortunately, manufacturers such as Altech have created a wide array of choices, and to make the selection process easier, they are grouped into several categories. So, it is not difficult to determine which one is the best choice, even though Altech offers more than seven different standard enclosure types within its portfolio. Each one has specific characteristics that collectively can accommodate virtually any scenario. They can be modified with cutouts for operating, setting or indicating components, as well as clear or smoked windows and the ability to accommodate a touch screen, and ventilation slots or machined entrance points. In addition, terminals can be marked for identification and different wiring, and instructions and custom markings can be imprinted on them.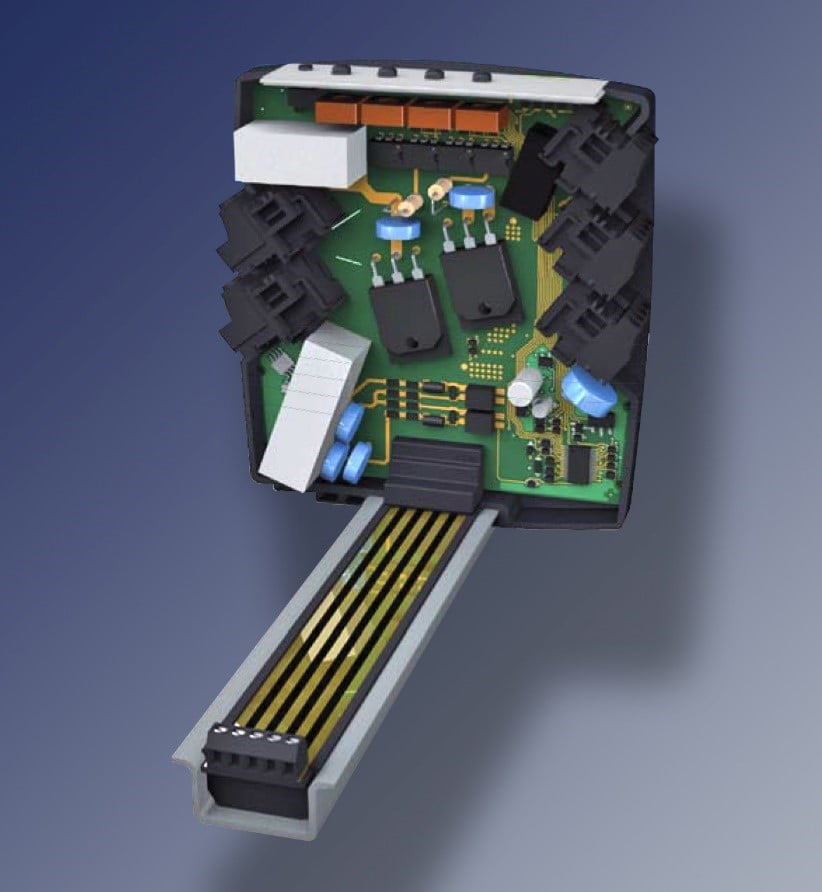 Figure 3. Open view of Altech Corporation KS4400 series DIN enclosure with pluggable terminals populated with PC board and mounted on DIN rail bus system. Source: AltechThey can also be molded in different colors to match those of a customer's corporate requirements, and most series allow different combinations of connectors, such as plug-in terminal blocks with screw or spring terminals. Altech can customize enclosures to meet unique requirements when ordered in larger quantities (Figure 3).
A good example is the KO4700 series, which like nearly all of the company enclosures, is fabricated from polycarbonate that is much stronger than ABS, PVC or other plastics that can chip or crack. It is available with eight to 132 terminals with multiple PC board slots and provisions for a PC board mounted directly behind the front cover and is well suited for components used for setting, adjusting and monitoring such as switches, potentiometers, and LEDs and LCDs. Terminal types include pressure plate or box clamp types with wire protectors and fixed or pluggable terminal-to-board connections.
The KO4700 series enclosures are designed to be mounted on a standard 35 mm x 7.5 mm DIN rail but will also fit on the 35 mm x 15 mm DIN rail, while the highest enclosures serve 35 mm x 15 mm DIN rail. Terminals are made of very high-quality tinned bronze, brass or steel with steel screws, and spring terminals of stainless steel. High-current terminals are also available with up to 56 terminals for field wire connections.
Summary
The DIN rail has been a success since it first entered the market 100 years ago, and it is likely to remain that way until something better comes along, which seems unlikely. Industrial control panels are constantly evolving with more and more electronic devices being included in the panel. The DIN rail enclosure has also evolved and there are now as many enclosure models available as user scenarios, and the list continues to grow as Industry 4.0 starts to become a reality, bringing with it even more types of board-level products and other devices that must be securely housed while easily upgraded to add new features. With DIN rail it is simply a matter of snapping them off and on. For more on DIN rail, visit the Altech website.
Find Free Electronics Datasheets