A new hexachromatic camera design inspired by the mantis shrimp improves the visualization of cancer cells during surgery. When deployed with near-infrared probes administered to label cancer cells, the bioinspired system enhances the accuracy of image-guided surgical removal of tumors.
The mantis eye perceives 12 or more colors while the human eye perceives three: red, green and blue. The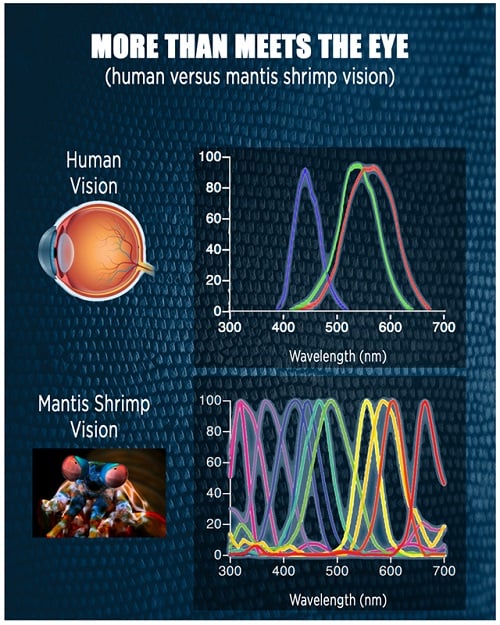 The human eye perceives red, green and blue while the mantis shrimp perceives upward of 12 colors. Source: University of Illinoisvisual powers of the shrimp were replicated by integrating advanced semiconductor devices and specialized optical filters into an imaging device that captures the three colors of visible light that a doctor would normally see as well as three colors of invisible near-infrared light that the doctor would miss. The imaging camera is paired with multiple tumor-targeted probes that accumulate in cancerous tissue and emit near-infrared light, permitting the user to detect exactly where tumors are located in a patient.
The researchers from University of Illinois, University of Michigan and Saints Cyril and Methodius University (Republic of North Macedonia) suggest that the more precise delineation of primary tumors will result in complete excision of cancer cells and prevent disease recurrence. The low-cost camera described in Science Translational Medicine will next be integrated with endoscopic systems to support minimally invasive surgeries in resource-limited hospitals.