A technology for both treating wastewater and generating electricity has been advanced by researchers from Washington University in St. Louis and Alexandria University in Egypt. The two processes are performed by integrating a filtration system into the anode electrode of a microbial electrochemical system.
The system includes a permeable anode that functions as a filter, composed of a conductive as the main component in a bacterial battery that uses electrochemically active bacteria as a catalyst. When wastewater is pumped into the anode, the attached bacteria degrade the organic materials present and release electrons,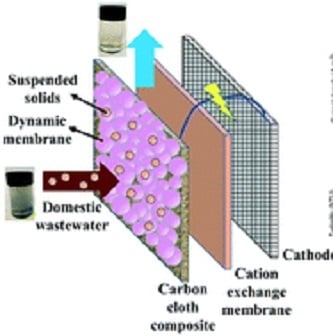 Membrane filtration combines with microbial electrochemical systems to form the double-duty electrode. Source: Zhen He et al.creating electricity. This dynamic membrane microbial electrochemical system filters out 80% to 90% of organic materials, producing water clean enough for environmental release or to be further treated for non-potable water uses.
A current density of almost 16 A/m3 at 10 Ω was achieved during trials, which is significantly higher than that of a control system with no dynamic membrane filtration. The new system was also observed to maintain relatively stable treatment performance and low turbidity levels when fed domestic wastewater for a 30-day period.
A paper on this research is published in Environmental Science: Water Research & Technology.