Researchers from Tel Aviv University used the ear of a dead locust to help robots hear. The team started this project intent on examining the advantages of biological systems that are integrated into technological systems. They chose to focus on hearing because it can be easily compared to existing technology.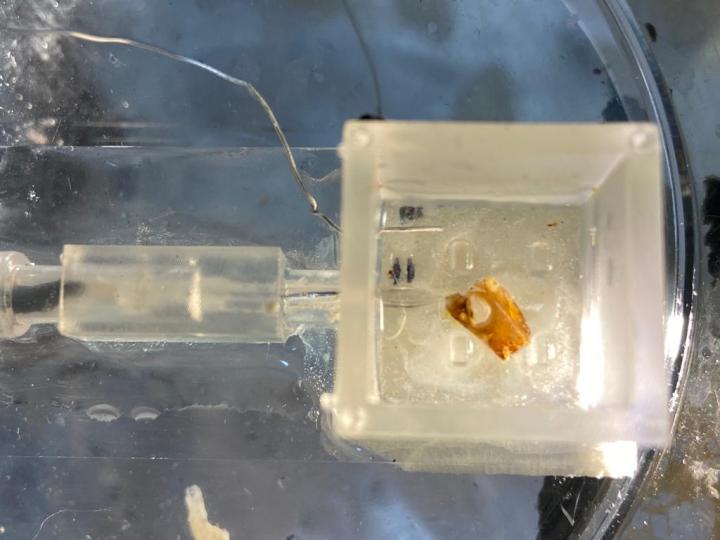 The locust ear inside the chip Source: Tel Aviv University
The first step to create the robot/locust ear was to build a robot that is capable of responding to signals it receives from its environment. Then, they needed to isolate and characterize the dead locust ear while keeping it functional long enough to connect it to the robot. Finally, they found a way to pick up signals received by the locust ear in a way that the robot can use it. The result was a robot that can hear and respond to sounds.
The key to this project was the team's new device called Ear-On-a-Chip., which allows the locust ear to stay alive through the experiments. It supplies oxygen and food to the organ and allows electrical signals to be taken out of the ear and amplified and transmitted to the robot. They also created a code that enables the robot to respond to electrical auditory signals.
Using the locust ear, the robot receives electrical signals and responds accordingly. If the team claps once, the robot moves forward. If the team claps twice, the robot moves backward. This is a huge step forward for robotics.
Biological systems have a huge advantage over tech systems in terms of sensitivity and energy consumption. Creating such systems that have biological elements could be the key to better tech systems.
A paper on this research was published in Sensors.