Sensirion has introduced a new carbon dioxide environmental sensor evaluation kit to help in the development of smart ventilation systems and indoor air quality monitors.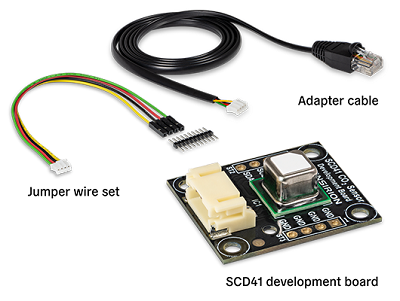 The kit includes a CO2 sensor, adapter cable and software. Source: SensirionThe SCD4x evaluation kit includes Sensirion's miniature CO2 sensor that features a photoacoustic sensing principle and PASens and CMOSens Technology to improve performance. The integrated humidity and temperature sensor allows for on-chip signal compensation and additional RH and T outputs as well as a voltage range of 2.4 V to 5.5 V.
The SCD41 CO2 sensor is mounted on the development board with a JST connector and through-hole pins. The adapter cable connects to the SEK-SensorBridge for evaluation of the sensor via Sensirion's SEK-ControlCenter viewer software. The kit also contains a four-pin jumper wire cable for fast prototyping through integration into existing platforms such as Arduino or Raspberry Pi.
The sensor can be used to measure the air quality of indoor locations as part of smart ventilation systems and are a key part of indoor air quality monitors. Measuring indoor CO2 concentration enables these systems to regulate ventilation in energy-efficient ways or help to maintain a low CO2 concentration.