The new HVD3220 high voltage differential probe from Teledyne LeCroy is ideal for wide-bandgap silicon carbide (SiC) and gallium nitride (GaN) power conversion testing at DC bus voltages from 500 V to 1500 V.
This addition to the HVD product series has 400 MHz bandwidth and a 1500 V DC CAT III and 2000 V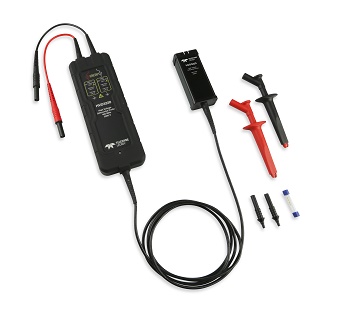 Source: Teledyne LeCroy(DC plus peak AC) CAT I rating. Like other Teledyne LeCroy HVD series probes, it also has:
Exceptional common mode rejection ratio (CMRR) across a broad frequency range with 65 dB CMRR at 1 MHz
Best available gain accuracy (0.7%, guaranteed)
High offset capabilities
Widest differential voltage range (2 kV)
The new HVD3220 is ideal for measuring GaN- and SiC-based power conversion system outputs, line outputs, in-circuit device switching outputs and voltages across other components. The 400 MHz bandwidth is more closely aligned with user needs for in-circuit GaN and SiC system testing than other HVD series probes. Additionally, some users will also find the HVD3220 useful for gate-drive signal measurements, or for measurements on 60 V common-mode power conversion systems (though the new DL-HCM series differential probe is targeted specifically to that application).