If the written word can be retrieved from paper, why not sound? A roll-to-roll manufacturing process for printing loudspeaker paper developed at Chemnitz University of Technology, Germany, might be harnessed for novel audio applications.
The researchers first realized the potential of sonorous paper loudspeakers with the development of the T-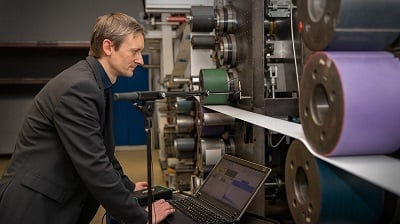 A printed paper loudspeaker web is tested on a roll-to-roll printing machine. Source: Jacob Müller/Chemnitz University of TechnologyBook, a large-format illustrated book equipped with printed electronics, in 2015. As the user turns a page, it begins to sound through a speaker invisibly located inside the sheet of paper. Paper or foils are printed with two layers of a conductive organic polymer as electrodes and a piezoelectric layer sandwiched between them serves as the active element, causing the paper or film to vibrate and producing sound by air displacement. The production format is only applicable to individual sheets, resulting in a slow and inefficient manufacturing process, prompting the researchers to advance the roll-to-roll technology to support cost-effective mass production.
[See also: Interactive textbooks mimic video game play]
The newly engineered system includes roll-to-roll printing, lamination and contact poling to fabricate rolls of more than 100 m length T-Paper. Electronics are embedded invisibly in the paper by means of inline polarization of piezoelectric polymer layers and inline process monitoring of the printed functional layers is possible.
The T-Paper was demonstrated by assembling a 360° surround sound installation with 56 individual loudspeakers. The speaker track, including printed circuitry, weighs just 150 g and consists of 90% conventional paper that can be printed in color on both sides. The technology might also be of use in the synthesis of flexible thin film sensors and actuators.
A paper detailing this research is published in Advanced Materials.