TDK Corp. has introduced a one-axis closed-loop microelectromechanical systems (MEMS) accelerometer that the company claims reaches quartz sensor performances and outperforms commercial MEMS sensors.
The Tronics AXO 315 MEMS sensors features a 24 bit digital SPI interface and SMD package, delivering one-year composite bias repeatability of 1 mg and composite scale factor repeatability of 600 ppm under severe temperatures and vibration conditions.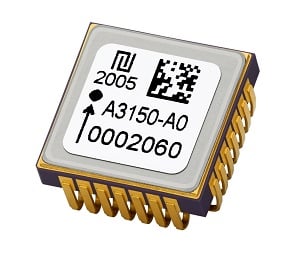 The AXO 315 MEMS accelerometer. Source: TDKThe sensor can be used for industrial, land, railway, naval and construction applications. The AXO315 works with high accuracy and stability in demanding environments such as servo inclinometers and dynamic inclinometers in industrial motion control units, IMUs and INS for GNSS-aided positioning and navigation of manned and unmanned ground vehicles and trains.
TDK said the MEMS has the performance equivalent to the incumbent analog quartz accelerometers and mechanical inclinometers but come in a smaller form factor and has a smaller weight.
Evaluation of the sensors can be made through an Arduino-based evaluation kit designed to provide developers with testing functionalities such as output reading and recording, recalibration and digital self-tests. Production of the sensors is scheduled for the summer of 2021.