The COVID-19 pandemic is driving innovations in the MedTech market to create solutions in telehealth, remote monitoring and mobile health management. Device manufacturers increasingly need complex electronics to create real-time, lifesaving connections between doctors and patients. Molex and Sager Electronics will host a free webinar — "Smaller, Faster, Connected: What Matters in MedTech Now" — on Wednesday, December 9, 2020, at noon EST to share relevant electronic interconnect solutions for the medical technology market.
Suppliers of medical devices need to provide smaller, sleeker, flexible and connected solutions. When moving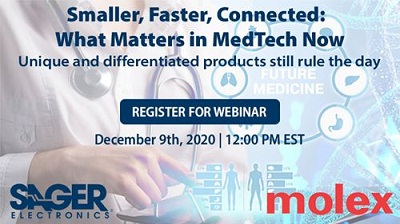 Source: Sager Electronicsmedical devices outside of the clinical setting, durability, functionality and usability also become critical design requirements. For diagnostics applications, convenience also needs to be added to the list.
Meeting these needs requires an electronics supplier who can help you navigate through these challenges with proven solutions. In collaboration with Sager, Molex will highlight product offerings to help support medical device designs. For example, Premo-Flex Flat-Flexible cables provide PCB connection solutions in compact and harsh environments. Molex hybrid electrical and optical products support medical connectivity applications with unique, innovative and disruptive technologies. Antennas are used in a multitude of medical applications, and Molex provides extensive experience in the design of ready-to-use, high-performing antennas. Wearable and hand-held devices require super-fine pitch connectors. Molex FFC/FPC and board-to board signal connectors deliver high-reliability and speedy data rates.