The promise of thin panel holographic displays has been limited by computational power and the number of pixels that can be controlled, resulting in clear images only when viewed from directly in front of the display. Progress is reported by Samsung Electronics engineers from South Korea and Russia, and researchers from University of Seoul (South Korea), who have developed a thin, interactive holographic display that allows high-resolution 3D videos to be viewed from a range of angles.
The 25 cm tall and 1 cm thick prototype provides a viewing angle of 15° at distances up to 1 m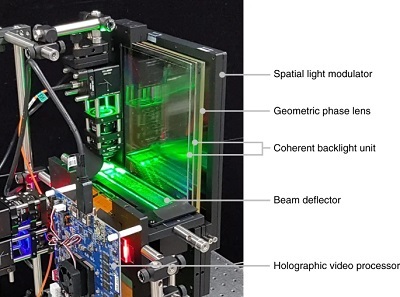 The prototype includes optical components (beam deflectors, coherent-backlight units, and a geometric phase lens), a holographic video processor board, a spatial light modulator, power connectors and other miscellaneous components. Source: Jungkwuen An et al.and includes a steering-backlight unit with a beam deflector, assembled by encasing liquid crystals between glass sheets, for increasing viewing angles. A geometric lens and a holographic video processor capable of carrying out 140 billion operations per second are also integrated into the design. The device was observed to bend light much like a prism, and the beam deflector combined with a tilting mechanism was demonstrated to display 4K resolution holographic video running at 30 frames per second.
The accompanying video captured 1 m in front of the display panel shows the 4K interactive video of a 3D swimming turtle that can be viewed from a wide range of angles. The turtle can be manually controlled along any direction by using a keypad, confirming that the dynamic holographic image is updated in real-time using the holographic video processor.
The technology described in Nature Communications could make 3D displays a more realistic option for use in mobile devices and household electronics.