Measuring low voltage test points on particular X-ray machines has required an oscilloscope which could be a time-consuming measurement. With its intuitive interface and automatic capture of waveforms, the new X2 Volt Sensor makes it easier than ever to perform these measurements. The tool can reduce the time for the test procedure by as much as 90% over traditional measurement methods.
The X2 Volt Sensor works like a combination of a voltage multimeter and oscilloscope in the range of ± 16 V,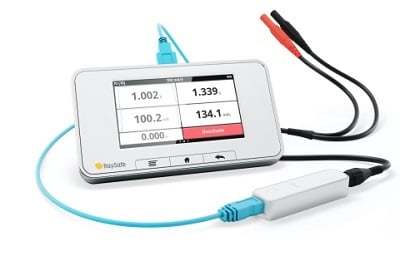 Source: RaySafewhich covers the applications needs in diagnostic X-ray rooms. It can also be used for connecting other measurement devices providing a voltage signal between ± 16 V, such as a mAs clamp for non-invasive mAs measurements. For faster data analysis, built in conversion factors can be selected in the base unit to calculate and display the corresponding kV or mA/mAs.
The X2 Volt Sensor is part of the RaySafe X2 family of sensors and electronics that are specifically designed to minimize the need for user interaction. The groundbreaking concept in sensor design and circuitry provides unsurpassed accuracy, reproducibility and sensitivity. Intelligent algorithms clearly indicate when a parameter is outside its specified range. The X2 self-test system ensures X-ray systems are in complete working order, delivering added peace of mind and ensuring accurate measurements the first time and every time.